EXCLUSIVE: Broken glass, ashes and piles of rubble. These are what remains of the Christian churches and homes in Jaranwala, Pakistan that were burned in a surge of mob violence last week.
Images and video obtained by Fox News Digital show the ransacking of churches by an apparent Muslim-led mob in Jaranwala on Aug. 16, an action provoked by allegations that a Christian and his friend had blasphemed by ripping pages out of a Quran. Tumultuous crowds were filmed going into churches, tossing furniture out windows, smashing altars and setting fire to the buildings.
Many Christians were also forced to flee their homes to escape the attackers. When the riots quelled, and they returned to their dwellings, they found their property stolen and homes burned.
"I saw with tears in my eyes how the mob desecrated crosses on the roofs of the churches and in graveyards and ruined church buildings. They burnt so many Bibles and altars," said the Rev. Deacon Daud Irshad, 28.
PAKISTAN GIVES CASH TO NEARLY 100 HOMELESS CHRISTIAN FAMILIES FOLLOWING DESTRUCTIVE MUSLIM-LED RIOT
Irshad, a seminary student who serves the poor in nearby Faisalabad, told Fox News Digital that he and a friend heard about the calls for violence against Christians that day and immediately departed for Jaranwala. He said he witnessed the rioting and looting firsthand and filmed some of the violence on a smartphone so that the world would know what was happening to Christians there.
"The condition in Pakistan is very bad," Irshad said, casting doubt on the blasphemy allegations that instigated the riots. "So much hatred, jealousy, envy and enmity from the Muslims towards Christians. It seems that we Christians are like animals to them. Whenever they want to kill, they kill, and whenever they want to spare, they give free hand." 
By his account, more than 25 churches were damaged and hundreds of homes attacked. Irshad said rioters first looted property from the buildings and then used flammable liquids to set them on fire.
"They looted the dowry of a young girl who was to get married soon," Irshad told Fox News Digital. "They looted the animals and good things."
129 MUSLIMS ARRESTED IN PAKISTAN FOLLOWING MOB ATTACKS ON CHURCHES, HOMES OF MINORITY CHRISTIANS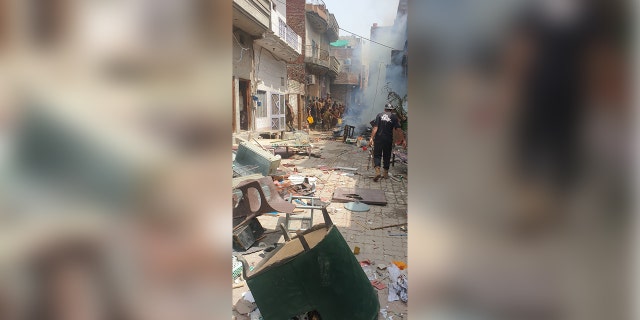 There are 4.2 million Christians living in Pakistan, which borders Afghanistan, China, India and Iran. But in a country of 229 million people, that is only 1.8% of the population. The vast majority, 96.5%, are Muslims, followed by 2.1% Hindus.
Officially, the rights of religious minorities are protected by the constitution of Pakistan. There are laws against compelled conversion and a National Action Plan against terrorism includes actions by law enforcement to counter sectarian hate speech and violent religious extremism.
But critics say the government has failed to secure those rights. Open Doors, a Christian charity that serves persecuted churches throughout the world, reports that Christians in Pakistan are considered second-class citizens. The country was seventh on the charity's worldwide list of the worst places to be a Christian.
"Last week's wave of violence against Christians in eastern Pakistan is only the tip of a very large iceberg of violent persecution and extreme discrimination. This is the experience not just for Christians but also for other religious minorities, including Shia and Ahmadi Muslims," Open Doors spokesperson Eshan Silva told Fox News Digital.
MUSLIM MOB ATTACKS 3 CHURCHES AFTER ACCUSING CHRISTIAN MAN OF DESECRATING QURAN IN EASTERN PAKISTAN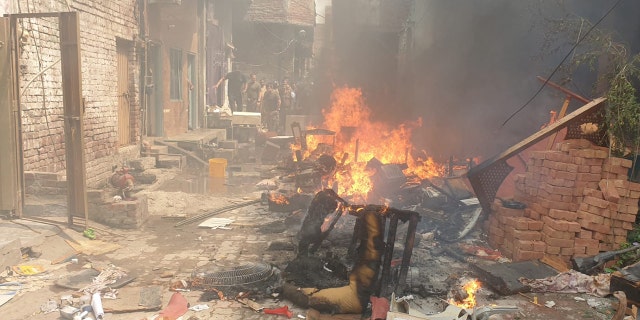 Silva attributed the latest attacks to Pakistan's notorious blasphemy laws, which the organization says disproportionally target religious minorities. According to Open Doors, Christians face nearly a quarter of all allegations of blasphemy – charges that can carry a death sentence – despite comprising less than 2% of the population.
"The laws are used to settle grudges and exact revenge; a simple allegation of having insulted the Prophet or desecrated a Quran is enough to see the accused imprisoned for years while they wait for trial," Silva said. "Meanwhile, mobs enact revenge attacks on Christian homes in the region – as happened in Jaranwala – leaving dozens dead and victims' families in hiding."
The two men accused of blasphemy were taken into custody last week. Rioters said the Christian and his friend tore pages out of a Quran, threw them on the ground and wrote insulting remarks on other pages. Pakistani authorities say they are investigating the case and have yet to determine the facts.
ADF International, which advocates for religious freedom, condemned Pakistan's blasphemy laws as a source of persecution against religious minorities.
HUMAN RIGHTS ADVOCATES RAISE ALARM OVER PERSECUTION OF INDIAN CHRISTIANS FOLLOWING MODI'S US VISIT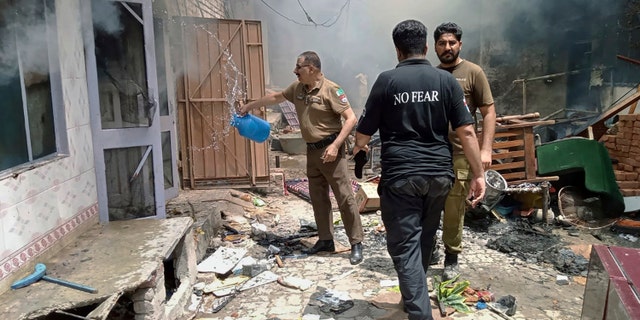 "Pakistan's oppressive blasphemy laws enable religious extremists to wreak havoc against those whom they disagree with and perceive as blasphemers, and the situation in Jaranwala is a tragic example of this," said Tehmina Arora, ADF International's director of advocacy for Asia. "Nobody should be persecuted for their faith, and all who are able need to speak out and condemn these targeted attacks on this minority Christian community in Pakistan."
Pakistan's Ministry of Foreign Affairs has spoken out against religious persecution but has not addressed renewed criticism of the nation's blasphemy laws.
"We reiterate what we have said earlier. The Faisalabad incident is a sad, reprehensible incident that has hurt the sentiments of Christians across Pakistan," a ministry spokesperson said. "The incident has been strongly condemned by Pakistan's leadership and the entire Pakistani society. Such intolerant and violent acts are unacceptable to the ethos of Pakistani society."
DEADLY EXCHANGE OF FIRE AT DISPUTED INDO-PAKISTANI BORDER IN KASHMIR RAISES TENSIONS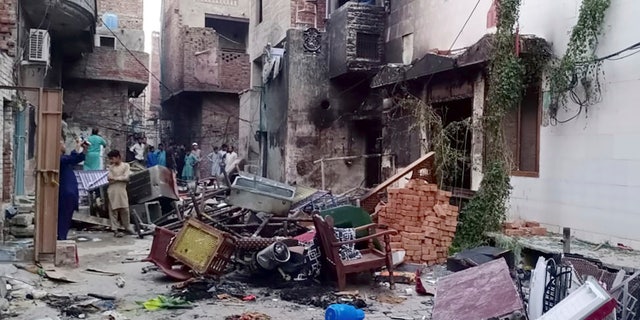 More than 130 people were arrested in the days after the incident, according to the Pakistani government. Officials have called the attacks heinous, and Prime Minister Anwaar-ul-Haq Kakar traveled to Jaranwala to meet with victims and promise swift justice for the perpetrators.
Kakar said Monday that households that were targeted last week will receive $6,800 in compensation. Officials also said work has begun to restore some of the damaged church buildings.
However, Irshad said justice is coming slowly for victims he's ministered to, those who fled into the jungle carrying a greater fear of retribution than of the poisonous snakes and insects found there.
CLICK HERE TO GET THE FOX NEWS APP
He pleaded for Pakistani authorities to stop violence against Christians and to open international borders for those who want to seek asylum in more tolerant countries.
"Everything is burnt," Irshad said. "Now there are ashes everywhere."