The fourth day of the United Nations General Assembly meeting kicked off in New York City on Friday, with leaders from countries all over the world speaking about pressing issues, such as climate change and global conflict. 
More than 100 world leaders spoke during the first three days of speeches.
So far the main topics addressed, with climate change, Russia's war in Ukraine and economic inflation, being the most pressing issues discussed. 
Here are some highlights of the leaders who spoke on Day 4:
Israel
Prime Minister Benjamin Netanyahu told the U.N. General Assembly on Friday that Israel is "at the cusp" of a breakthrough in a peace agreement with Saudi Arabia. Using visual aids, he showed a map of Israel in 1948 – surrounded by multiple hostile Arab countries at the time. 
In the decades since, Israel has normalized relations with six of those nations, including four that did so in the 2020 Abraham Accords. 
"There's no question the Abraham Accords heralded the dawn of a new age of peace. But I believe that we are at the cusp of an even more dramatic breakthrough, a historic peace between Israel and Saudi Arabia," Netanyahu said. "Peace between Israel and Saudi Arabia will truly create a new Middle East."
Some hurdles remain in the sought peace agreement with Saudi Arabia, including the creation of a Palestinian state. In an interview with Fox News this week, Saudi Arabia's Crown Prince Mohammed bin Salman said both sides were getting closer to formal normalized relations. 
"Every day we get closer, it seems it's for the first time real one serious. We get to see how it goes," he said. 
He insisted his country could work with Israel, no matter who is in charge, calling the deal "the biggest historical deal since the end of the Cold War," which he stated would rest upon agreements related to the treatment of the Palestinians.
"If we have a breakthrough of reaching a deal that gives the Palestinians their needs and make the region calm, we're going to work with whoever is there," he added. 
Peace talks between Israel and the Palestinians broke down more than a decade ago. Violence has soared in recent years as Israel has carried out military raids in the occupied West Bank and Palestinians attacking Israelis.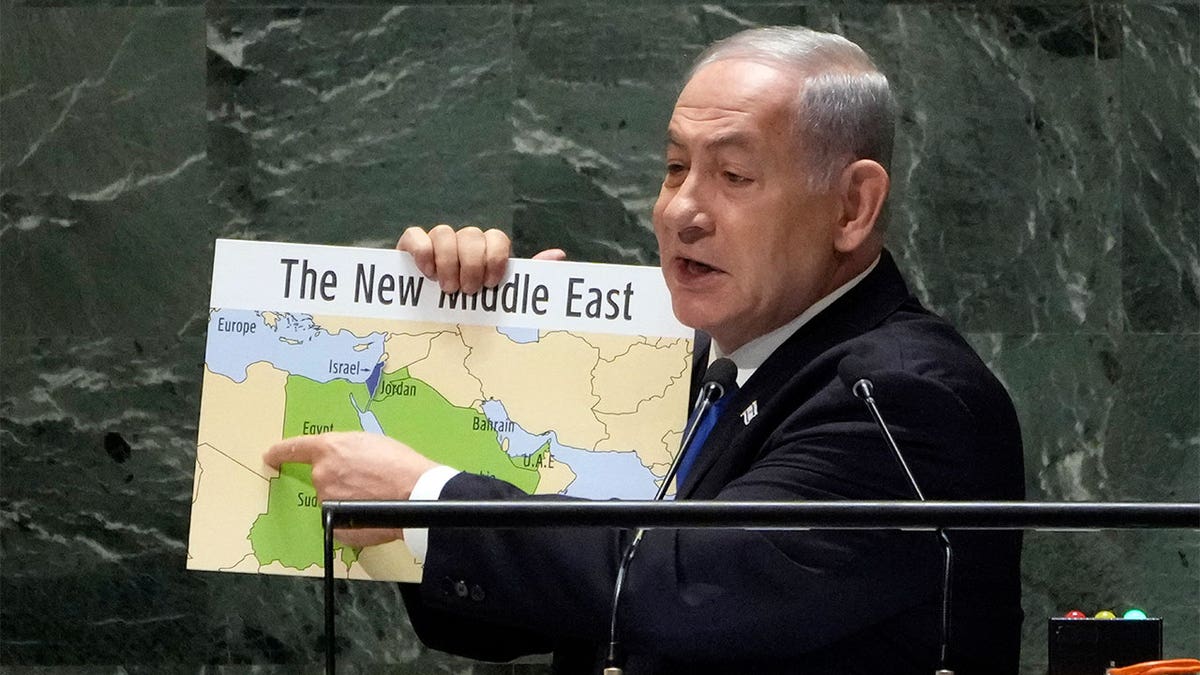 On Thursday, Palestinian President Mahmoud Abbas called for Palestine to be admitted into the United Nations, like Israel. 
"There are two states that the entire world is talking about: Israel and Palestine," Abbas told the General Assembly. "But only Israel is recognized. Why not Palestine?"
"What is the danger posed by the state of Palestine obtaining full membership of the United Nations?" he added. 
Netanyahu also called for more sanctions against Iran, which Israel views as its biggest threat. The stepped-up sanctions request was over Iran's nuclear program, which has steadily progressed since the United States withdrew from the agreement
The Associated Press contributed to this report.