Gaza under "total siege" with ban on food and fuel supply.
WH retracts Biden's claims made based on misinformation.
Israeli PM forms unity government with political rival to fight Hamas.
---
Amid Israel's complete blockade of the besieged territory, United Nations Secretary-General Antonio Guterres has called for allowing humanitarian aid into war-struck Gaza, with the death toll in the region surging past 1,000 as the war enters its sixth day on Thursday.
Days after Israel announced a total blockade of Gaza, The UN chief took to X, formerly known as Twitter, saying the supply of humanitarian aid, including food and water, "must be allowed" into Gaza.
"Crucial life-saving supplies — including fuel, food and water — must be allowed into Gaza. We need rapid and unimpeded humanitarian access now," the UN chief wrote on X.
Israeli jets have pounded Gazan targets for days in retribution for a weekend attack by Hamas fighters who breached the border fence enclosing the enclave and rampaged through towns and villages, killing 1,200 people, injuring over 2,700, and taking scores of hostages, the Israeli military said.
Meanwhile, the death toll in Gaza has risen to 1,200, with around 5,600 wounded, Palestinian media reported, citing Gaza's health ministry.
Biden backtracks on remarks

While addressing the Jewish community in the US Wednesday, President Joe Biden vividly described the horrors of the Israel-Hamas conflict. Soon after he made the claims that he believed based on confirmed pictures, the White House was forced to retract his statements.
In broad statements regarding his administration's support for Israel amid its conflict with Hamas and efforts to release US hostages, Biden said, "I never really thought that I would see and have confirmed pictures of terrorists beheading children."
According to officials from the White House, Biden was alluding to allegations from Israel of children being killed, referencing several media reports of beheadings.
Israel forms unity government
Israel's leaders on Wednesday formed a unity government, promising to put bitter political divisions aside to focus on the fight against Hamas, Reuters reported.

Former defense minister Benny Gantz, a centrist opposition leader, spoke live on Israeli television alongside Israeli Prime Minister Benjamin Netanyahu and Defense Minister Gallant after forming a war cabinet focused entirely on the conflict.
"Our partnership is not political, it is a shared fate," said Gantz. "At this time we are all the soldiers of Israel."
Netanyahu said the people of Israel and its leadership were united. "We have put aside all differences because the fate of our state is on the line," he said.
Gantz's National Unity Party, which has fiercely opposed judicial reforms proposed by Netanyahu's right-wing coalition, said it will not promote any unrelated policy or laws while the fighting goes on.
Israel has put Gaza under "total siege" to stop food and fuel from reaching the enclave of 2.3 million people, many poor and dependent on aid. Hamas media said on Wednesday that electricity went out after the only power station stopped working.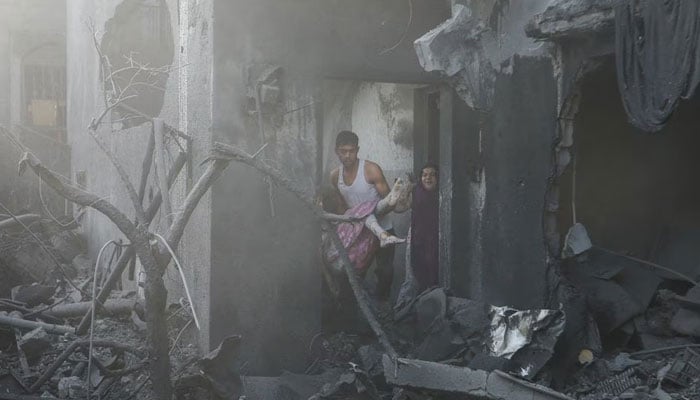 With Palestinian rescue workers overwhelmed, others in the crowded coastal strip searched for bodies in the rubble.
"I was sleeping here when the house collapsed on top of me," one man cried as he and others used flashlights on the stairs of a building hit by missiles to find anyone trapped.
Over 338,000 forced to flee Gaza Strip
More than 338,000 people have been forced to flee their homes in the Gaza Strip, the United Nations said, as heavy Israeli bombardments continue to hit the Palestinian enclave.
"Mass displacement across the Gaza Strip continues," the UN humanitarian agency OCHA said in a statement sent on Thursday.
By late Wednesday, the number of displaced people in Gaza had risen by an additional 75,000 people from the figure given 24 hours earlier, reaching 338,934, it said.
OCHA said nearly 220,000 people, or two-thirds of the displaced people, have sought shelter in schools run by the UN agency supporting Palestinian refugees, UNRWA.
Another nearly 15,000 people fled to schools run by the Palestinian Authority, while more than 100,000 were being sheltered by relatives, neighbours and a church and other facilities in Gaza City.
OCHA said that around 3,000 people had already been displaced within the enclave prior to Saturday´s attack.
The bombing campaign has destroyed or rendered uninhabitable at least 2,540 housing units in Gaza, OCHA said, citing numbers from the Gaza Ministry of Public Works and Housing.
Another 22,850 housing units sustained moderate to minor damage, it said.
The UN agency also voiced alarm at the significant destruction of civilian infrastructure damaged in the shelling.
Among other things, it said sewage facilities serving more than a million people had been hit by air strikes, leaving solid waste accumulating in the streets, posing a health threat.
---
— With additional input from AFP, Reuters