A suspension bridge collapsed into a river, injuring 32 people at a duck-catching contest in Indonesia. 
Footage shows the moment a bridge carrying dozens of locals fell into the shallow river near the village of Nanga Mentukak, East Kalimantan province, during Independence Day celebrations Aug. 17.
Residents of the town gathered along the shoreline and on the bridge to watch the competition. Joyous shouts were heard as villagers dashed and splashed around in the water, trying to catch the fowl. But cheers turned to screams when the bridge suddenly twisted and fell, dropping on top of people in the water, including children. 
Local authorities said 32 people were injured in the collapse. 
INDONESIAN AUTHORITIES BURN 11-ACRE MARIJUANA PLANTATION AFTER IT WAS DISCOVERED BY DRONES
"Some people had broken bones," said Inspector Rahmad Kartono, head of the Sekadau Police Criminal Investigation Unit. 
"All the victims were immediately taken to the Community Health Center. Some of them were also referred to the hospital." 
Police said the spectators had been told not to stand on the bridge, which was known to be unstable and unfit to carry heavy loads. 
PRIVATE JET IN MALAYSIA CRASH-LANDS ALONG HIGHWAY, KILLING 10: VIDEO
"The suspension bridge broke because many residents watched the duck-catching competition from the bridge," police said. 
Both contestants and spectators were injured, Rahmad said.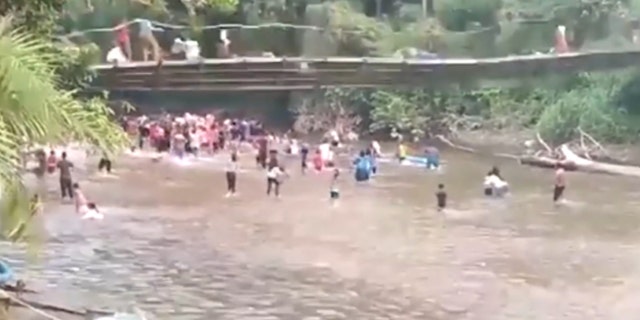 Those hurt were taken to the Nanga Taman Health Center for treatment, while those with more serious injuries were taken to the Sekadau Regional General Hospital. 
No casualties were reported. 
33 BODIES RECOVERED FOLLOWING LANDSLIDE AT JADE MINE IN BURMA: RESCUERS CONTINUE SEARCH FOR 3 MISSING PEOPLE
A police investigation into the incident is ongoing. 
The incident comes nearly a decade after another deadly bridge collapse in the western part of the country. In 2014, ten children died after a bridge in the Aceh province collapsed in 6-feet high floodwaters triggered by heavy rains. Dozens of people were on the bridge watching a traditional wedding ceremony intended to ward of disasters when the bridge fell.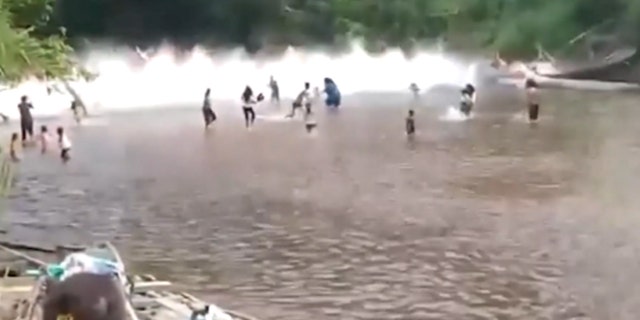 Another deadly bridge collapse in central Indonesia in 2011 claimed the lives of at least three people. That bridge linking the towns of Tenggarong and Samarinda in East Kalimantan province was clogged with traffic when the accident occurred, The Associated Press reported.
A witness said he saw at least one bus and a dozen motorcycles fall into the Mahakam River and survivors swimming to the shore in panic. 
CLICK HERE TO GET THE FOX NEWS APP
In 2016, officials said at least eight people were killed when a suspension bridge connecting two small islands near the resort island of Bali collapsed. Police said the water was not deep, but the victims were crushed by debris.