Reports that a Russian general who has been missing from the public eye since the Wagner Group uprising has now been fired could be a Russian disinformation operation.
The fate of Russian Gen. Sergei Surovikin, who earned the nickname "General Armageddon" while serving as the head of the air force, has been the subject of intense speculation since the officer disappeared from public view in recent months, with new reports earlier this week indicating Surovikin has been fired by the Kremlin.
But Rebekah Koffler, a strategic military intelligence analyst, former senior official at the Defense Intelligence Agency and author of "Putin's Playbook," told Fox News Digital that such reports could be part of a disinformation operation from the Kremlin.
"What struck me about the Surovikin story is that it originated from a Russian source, and then, within minutes, it spread all across major Russian media like wildfire. Remember, most if not all Russian media are controlled by the state," Koffler said.
UKRAINE MARKS INDEPENDENCE DAY WITH PROMISES TO CONTINUE ITS FIGHT AGAINST RUSSIA
According to a report from Reuters on Wednesday, news of Surovikin's dismissal was first reported by Russian state news agency RIA, which cited an "unnamed but informed source." The source, according to the report, told RIA that Surovikin "has now been relieved of his post, while Colonel-General Viktor Afzalov, head of the main staff of the air force, is temporarily acting as commander-in-chief of the air force."
The RBC news outlet in Russia later reported the same, citing two unnamed sources that were familiar with the situation, though the Kremlin has yet to publicly announce Surovikin's dismissal.
Those reports have been widely circulated by media in the U.S., something Koffler said could be intentional.
"This story has the hallmarks of a Russian tradecraft called 'information confrontation,' which is intended to confuse the opponent, divert his attention and stretch his resources, especially our intelligence resources that would otherwise be focused on the real Russian target that matters – today, it's the battlefield in Ukraine and Putin's decision-making process, plans and intentions," Koffler said.
Such a strategy would not be the first time the Kremlin used such a tactic, Koffler said, noting her previous experience with similar stories while a member of the intelligence community.
"Senior officials in the White House and the Pentagon would read something in the press and would constantly ping us with silly questions," Koffler said. "Then, instead of actually focusing on the actual target, such as Russian warfighting doctrine, war plans, weapons systems, we would be chasing a wild goose."
UKRAINIAN PRESIDENT VOLODYMYR ZELENSKYY THANKS DANISH LAWMAKERS FOR SENDING WARPLANES AS RUSSIAN WAR CONTINUES
Koffler argued that the Russians are aware of the pressure U.S. politicians face from reports that circulate in the media, something the Kremlin seeks to take advantage of when spreading information.
"Our leaders have to explain things to Congress, which is also very susceptible what's reported in the media. So, the Russians exploit that by throwing what they call a 'duck' (utka), 'spray in the information stream,'" Koffler said. "It's a rough equivalent of a 'red herring' in English."
But Robert Peters, a research fellow for the Center for National Defense at the Heritage Foundation, told Fox News Digital that the timing of the firing is likely not a coincidence.
Pointing to the recent possible death of Yevgeny Prigozhin, leader of the Wagner Group private military company, in a plane crash this week, which many observers believe was an intentional act by the Kremlin, Peters argued that the Kremlin is sending "a message … to the people of Russia, and really to all his top military commanders, that he remains the czar of all Russians, and if someone tries to take a run at him, and they're not successful, then justice will come for them."
Some U.S. officials believed in June that Surovikin may have been supportive of Prigozhin, the Reuters report said, though intelligence was unclear whether the top general in any way assisted the recent, aborted Wagner rebellion.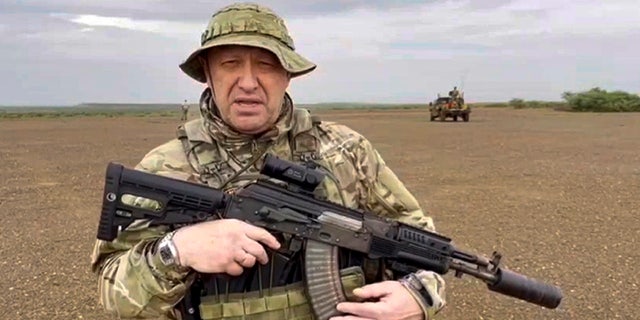 Surovikin's last public appearance was June 24, the last day of the Wagner mutiny, appearing in a video to encourage Prigozhin to halt his fighters' advance on Moscow. His sudden absence and potential firing could be a blow to Russian President Vladimir Putin's war effort in Ukraine, some Western military experts believe, noting the general's reputation for competence that goes back to Russia's military operations in Syria.
RUSSIAN WAGNER GROUP WARLORD PRIGOZHIN AMONG DEAD ON PLANE THAT CRASHED, KILLING 10, OFFICIALS SAY
Once a recipient of Russia's top military award, Surovikin has long been believed to be one of Russia's top officers by both Russian and Western military experts. Surovikin was once the commander of Russia's overall war effort in Ukraine, but he could have fallen out of favor with the Kremlin during the Wagner revolt, according to the Reuters report.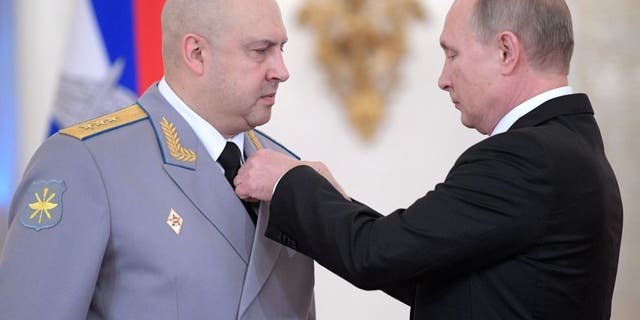 Peters argued that Surovikin may have fallen out of favor with Putin long before the failed mutiny, pointing to the fact that the top general was removed from his post as commander in Ukraine just three months into his stint.
"Surovikin has been on the out since about January of 2023 after he failed to make any significant movements in the war against Ukraine," Peters said. "He only held command for about three months."
Peters also argued that the Russian general may not have been as effective as some international observers believe, arguing that Putin has so far failed to find an effective officer to lead the war effort in Ukraine.
"Russia has been trying to build a narrative that it has the second-best military in the world, that it has modernized its forces, that it's excellent on the battlefield, and they're ready for a great power war," Peters said. "The war in Ukraine has shown that to be a lie."
Peters noted that no matter who has been in charge of the effort in Ukraine, those officers have not achieved "any kind of sustained military push that gets behind enemy lines or achieves real battlefield success."
"That's a failure of command leadership," Peters said. "Russia has yet to find a commander that's able to make any real gains."
Taken together with the failed mutiny, Peters argued that the Surovikin firing was more likely a direct message from Putin.
"I think it's hard to say that this is coincidental," Peters said. "It's 'Don't cross me. Don't try to take execute a mutiny against me and my regime. I remain in command.' I think the message is clear, this is what dictators do."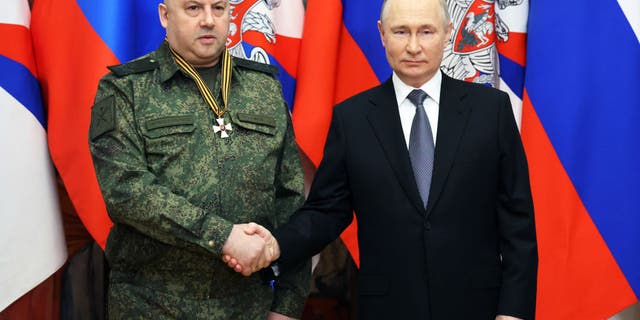 But Koffler warned that the story could still turn out to be a "duck" planted by the Kremlin, which could distract U.S. intelligence from the war in Ukraine.
"That is what the Surovikin story might be," Koffler said. "We are all chasing it now, instead of assessing the state of play in the Russia-Ukraine war, what Putin thinks, what Zelenskyy thinks and what the prospects for peace are."
However, Koffler believes it is possible that the top Russian general could reemerge down the road thanks to the trust he had previously gained with Putin.
CLICK HERE TO GET THE FOX NEWS APP
"It's unclear what Gen. Surovikin's whereabouts are at this time," Koffler said.
"It is plausible that Putin will reassign Surovikin to a new role. Surovikin has had Putin's trust for the past several years. Putin personally honored Surovikin with two major awards – the Hero of the Gold Star of Russia in December 2017 for his performance in Syria and the Order of St. George III Degree in December 2022 for his performance in the 'special military operation' in Ukraine," she added. "I wouldn't rule out the possibility that Surovikin will reemerge in the coming weeks in the new assignment, possibly in Ukraine, as Putin is now adding another vector of attack in northeastern Ukraine to stretch Ukrainian forces' defenses thin."