System should be run by those who know about war: Zelensky.
Kyiv mandates civilians to join military assault against Russia.
Says intelligence agencies found commissars guilty of corruption.
---
As the Russia-Ukraine war intensifies with Moscow gradually securing gains in the eastern part of the neighbouring country, President Volodymyr Zelensky Friday dismissed some top military officials over corruption charges, saying "the system should be headed by those who know about the war".
Volodymyr Zelensky wrote on social media: "We are dismissing all regional military commissars," the decision he took after meeting with senior military leadership.
He added: "This system should be run by people who know exactly what war is and why cynicism and bribery at a time of war is high treason."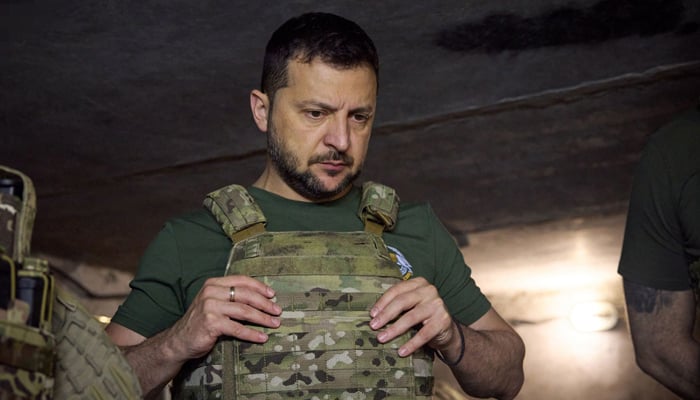 Amid the Russia-Ukraine war, Kyiv has been mandating his people to launch an assault against Moscow's advance to recapture the lost territory under its counter-offensive.
The action reflects Ukraine's efforts to clamp down on graft and corruption as part of sweeping reforms requested by Western institutions like the European Union(EU), which Ukraine hopes to join.
"During the inspection of the territorial recruitment centres, law enforcement agencies exposed cases of corruption," the presidency said in a separate statement.
It further noted that Ukraine's general mobilisation was a key area in which inspectors had uncovered instances of foul play.
These "pose a threat to Ukraine's national security and undermine confidence in state institutions," the statement added.
"Ukraine's security council recommended that the head of the army select replacements who have battlefield experience and were vetted by Ukraine's intelligence services," it underlined.
Russia increases pressure
Separately, Russia said Friday that it got better in its fighting positions around northeast Ukraine, as Kyiv's troops struggle ahead with their counteroffensive in other areas.
Moscow also launched a volley of hypersonic missiles at western Ukraine in an attack that killed one in a part of the country that has largely been spared from Russia.
According to Moscow's defence ministry, Russian units had "continued offensive operations on a wide front and improved the tactical situation" in Vilshana and Pershotravneve to the east of Kupiansk.
The situation around Kupiansk was "difficult, given the power of the enemy group, but controlled", said Sergiy Cherevaty, spokesman for Ukraine's eastern forces.
Ukrainian officials in Kupiansk urged residents Thursday in 37 settlements wedged between the town and Russian lines to evacuate the area.
"Residents could evacuate to Kharkiv, some 90 kilometres (55 miles) west, where they would have the option to move to safer regions," they said.
Russia's drive in Kupiansk has sought to draw Ukrainian forces away from Kyiv's own counteroffensive.
Drone attack on Moscow
Officials said they had downed a drone aimed at the capital, the latest in a string of attacks on the city in recent days.
A Ukrainian drone was destroyed over the western outskirts of Moscow, the defence ministry said, adding there was no damage or casualties as a result of the incident.
"An attempt by the Kyiv regime to carry out a terrorist attack using an unmanned aerial vehicle on a facility in Moscow was thwarted," the defence ministry said, indicating no casualties.
Largely spared in the early part of the conflict, the capital has seen a surge in attacks in recent months.
Russia said Thursday, it thwarted two drones headed for Moscow, a day after two others were destroyed on approach.