Russian media reported that the Su-27 fighter jet thwarted an attempt by a US RQ-4B Global Hawk surveillance drone to breach Moscow's airspace Sunday, forcing Washington's plane to "turn away". 
According to TASS report, the Russian Ministry of Defence stated: "Airspace surveillance equipment detected an air target approaching the border over the Black Sea on October 15."
The statement added: "A Su-27 fighter jet was scrambled to prevent it from entering Russian airspace."
"The crew of the Russian fighter jet identified the aerial target as an RQ-4B Global Hawk surveillance drone of the US Air Force. As the Russian fighter jet approached, the foreign surveillance UAV turned away from the Russian state border," the statement quoted by TASS read.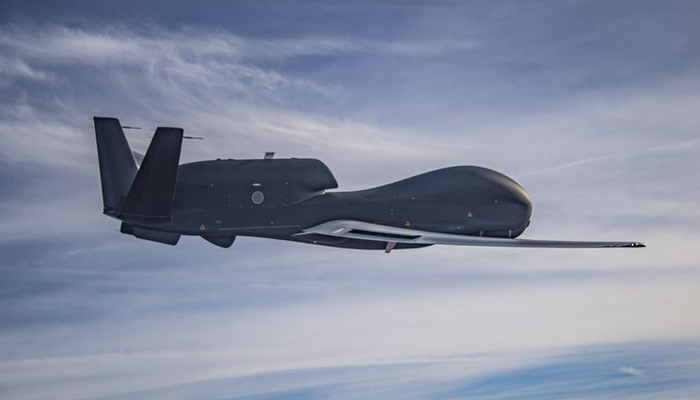 Moscow's forces have earlier barred Western planes from entering into the country's territorial spheres.
"The Russian aircraft returned safely to its home airfield. A violation of the Russian state border was averted," the Defence Ministry said Sunday.
In June, Russia also intercepted British warplanes that approached its border above the Black Sea.
According to a statement from the Defence Ministry, "as the Russian fighter jets approached, the foreign warplanes turned around and distanced themselves from the Russian border."
The ministry had said at that time that the planes involved were two British Typhoon jets accompanied by an RC-135 reconnaissance aircraft.
"The Russian planes safely returned to their airfield. There was no violation of the Russian border," said the ministry.
Incidents involving Russian and Western aircraft have multiplied over the Black Sea and Baltic Sea in recent months, as Moscow pursues its special military operation against Ukraine.
In May, Moscow also said it had intercepted four American strategic bombers above the Baltic Sea in two separate incidents in the space of one week.
Russia also scrambled warplanes to intercept French, German, and Polish aircraft.
In April, an American Reaper MQ-9 military drone crashed in the Black Sea after a confrontation Washington blamed on two Russian fighter jets.
On June 9, the British Royal Air Force warplanes were twice scrambled over the course of 24 hours to intercept Russian aircraft flying close to NATO airspace, the Ministry of Defence in London had said.