Philadelphia's mayor and its chief of police are speaking out after groups of teenagers looted multiple stores across the city, including an Apple Store, Lululemon and Foot Locker. Police said the effort to steal merchandise was apparently coordinated.
"This was a sickening display of opportunistic criminal activity, and we will not stand for it," Philadelphia Mayor Jim Kenney said early Wednesday morning, after as many as 100 culprits, many juveniles, were involved in ransacking stores over several hours Tuesday night.
"These were people who took advantage of an opportunity… [and] looking to destroy our city," Interim Commissioner John Stanford told a group of reporters Wednesday morning, calling the group "a bunch of criminal opportunists."
Video on social media showed masked people in hoodies running down the street and into several stores, where they would then fill their arms with merchandise and flee in what is being described as a flash mob-style ransacking. Police said early Wednesday morning that officers had arrested 15 to 20 suspects.
PHILADELPHIA SWARMED BY ALLEGED JUVENILE LOOTERS TARGETING THE APPLE STORE, LULULEMON, FOOTLOCKER AND OTHERS
The criminal activity came after but separate from a peaceful protest that started after a judge dismissed murder and other charges against a white Philadelphia police officer who fatally shot a Black resident, Eddie Irizarry.
Those doing the ransacking were not affiliated with the protest, Commissioner Stanford clarified.
"These were not protesters, these were criminals," Stanford said. "This is disgusting. It has no place in this city."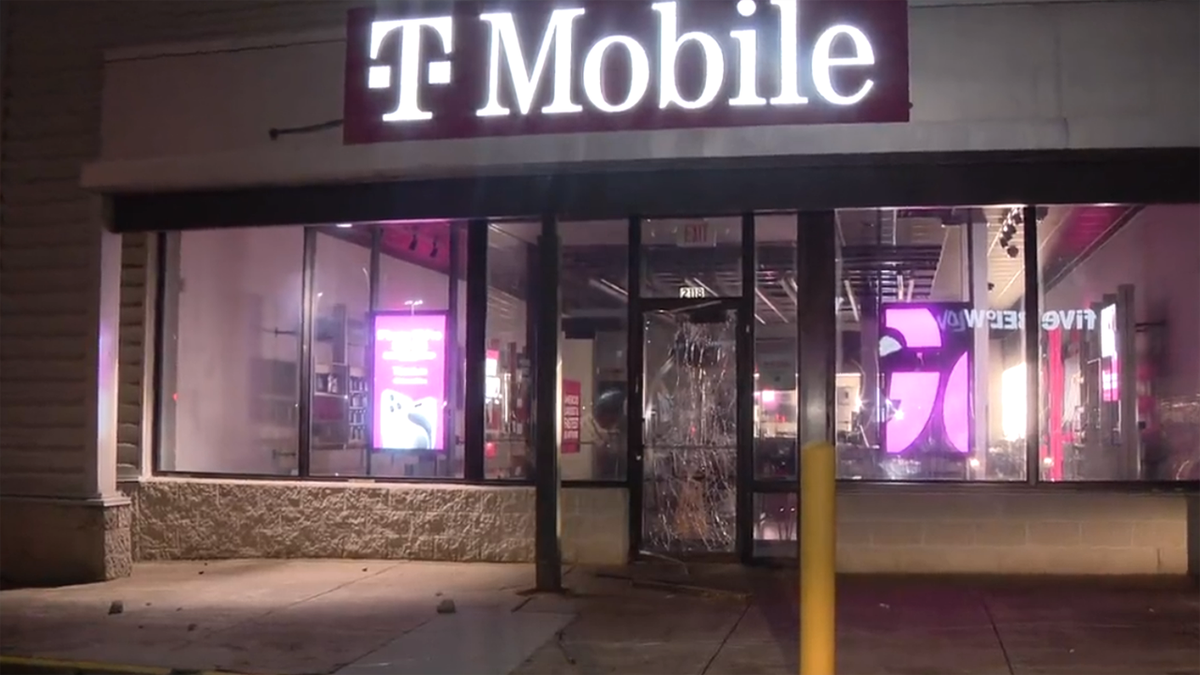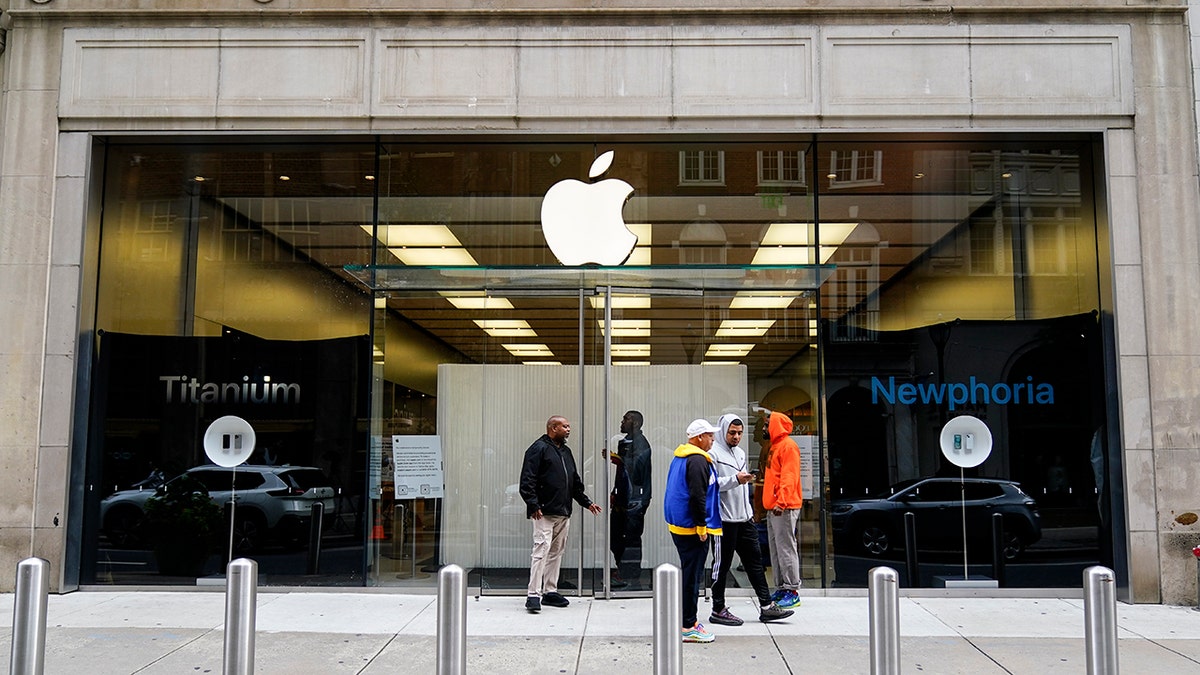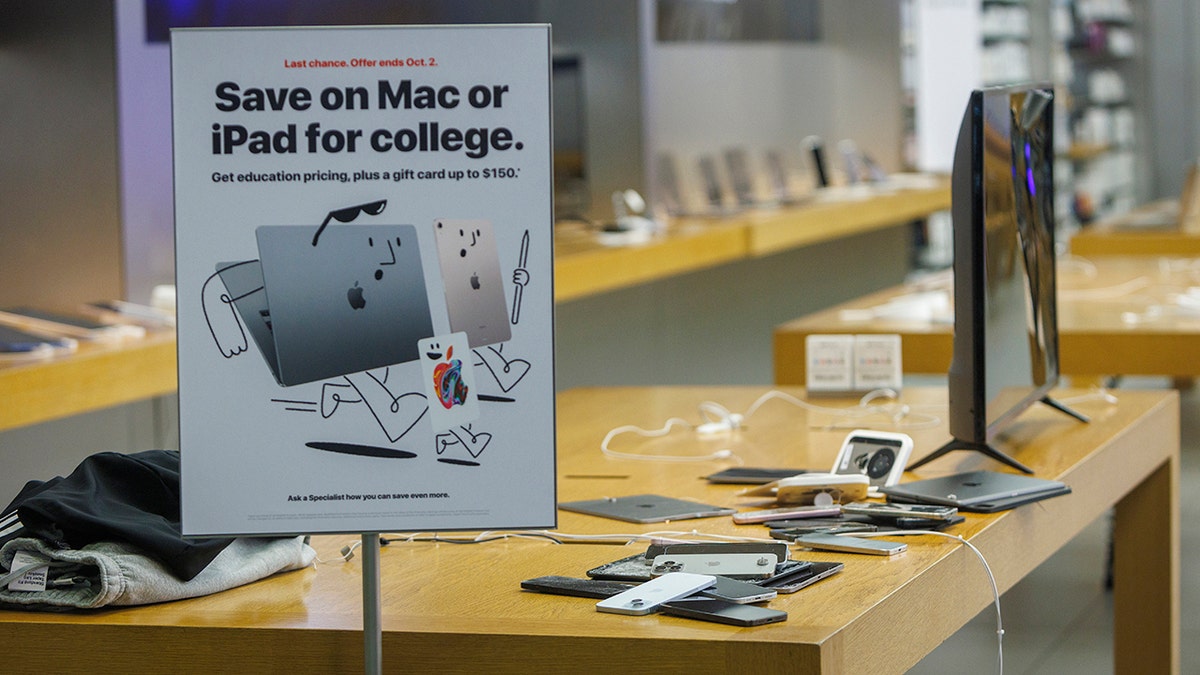 "What we had tonight was a bunch of criminal opportunists take advantage of a situation. It's not going to be tolerated. We made arrests and we're going to continue to make arrests until we have all the individuals or a number of the individuals responsible for what we've seen tonight in custody," he added.
HUNDREDS OF BUSINESSES TO GO ON STRIKE OVER RAMPANT VIOLENT CRIME PLAGUING CALIFORNIA CITY
The police commissioner likened the rioting to how protests erupted throughout Philadelphia following the death of George Floyd in 2020.
"Everyone in this city should be angry," Stanford said of the looting. "Everybody that goes to these businesses should be angry. Everybody that lives in various communities throughout this city that has been impacted by this behavior in 2020 should be angry."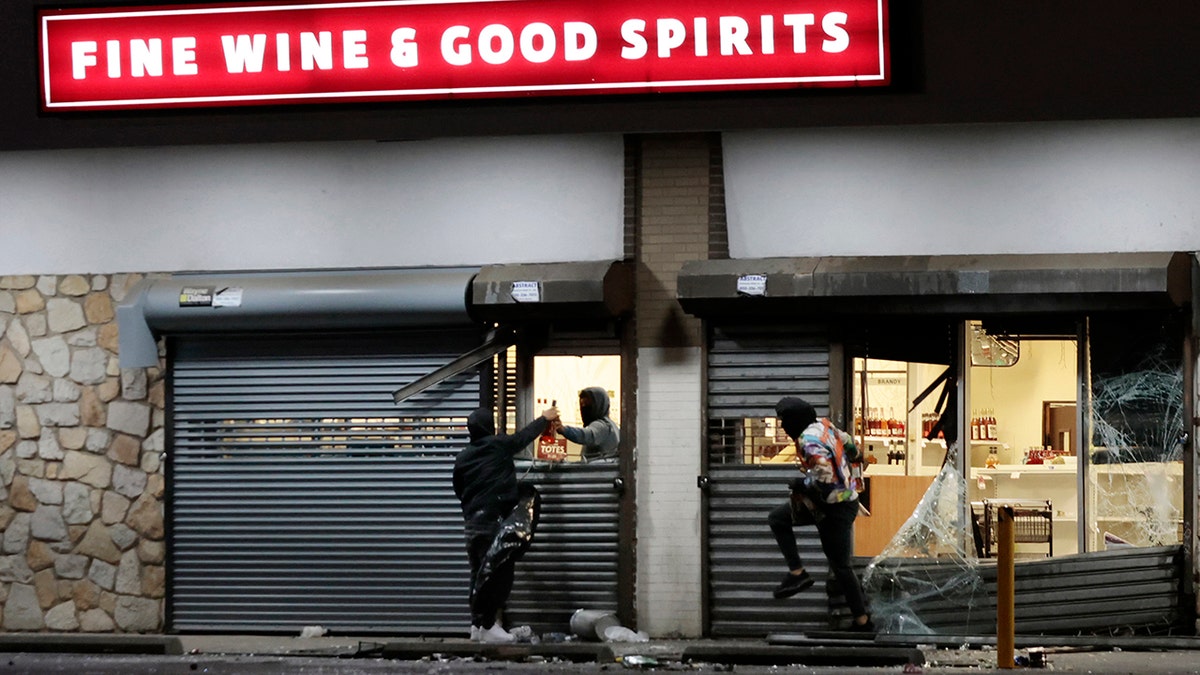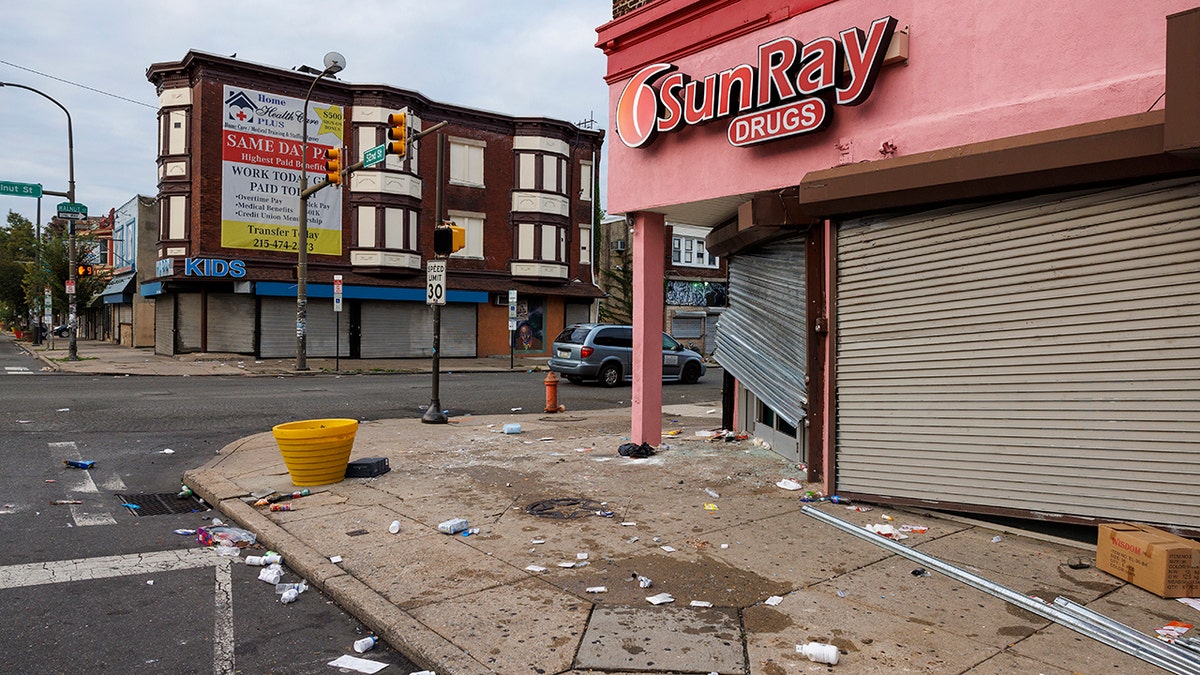 "It's disgusting, to be very honest, to see what our city went through in 2020 and to have some individuals try to recreate that same type of energy tonight is disgusting."
And, he said: "The good people of our city don't deserve that type of behavior."
The mayor's statement also thanked the Philadelphia Police Department for its "swift response to disperse crowds and make necessary arrests related to last night's incidents."
PHILADELPHIA POLICE FIND FLIGHT ATTENDANT DEAD WITH CLOTH IN MOUTH INSIDE HOTEL ROOM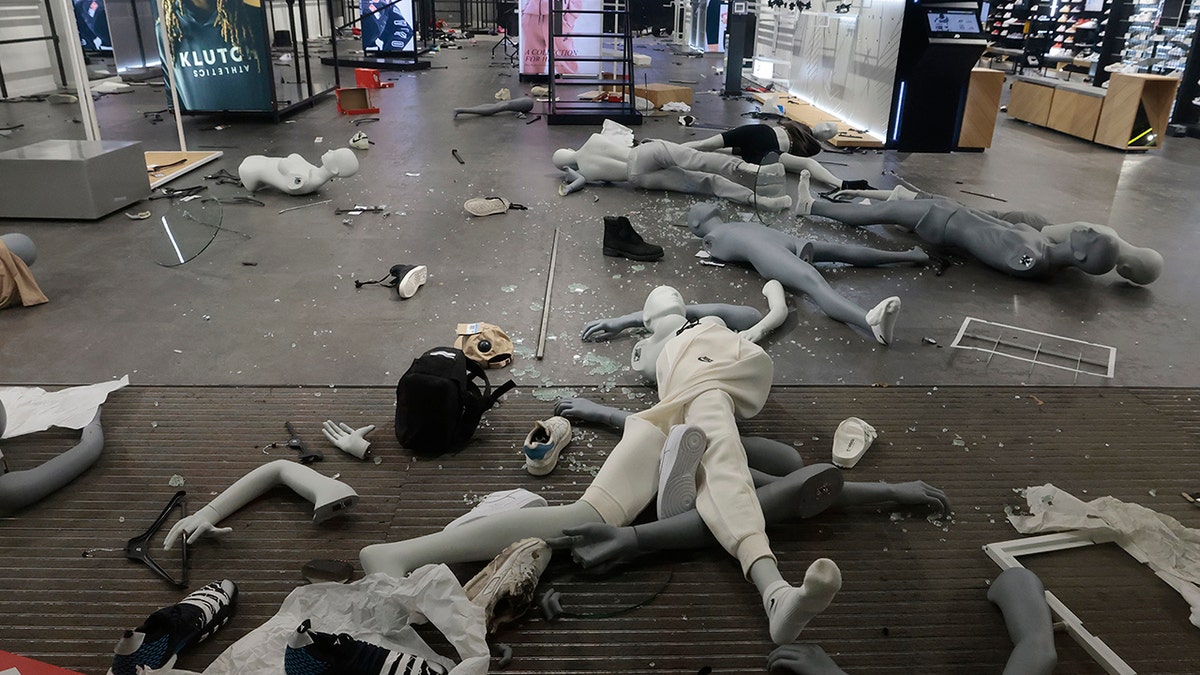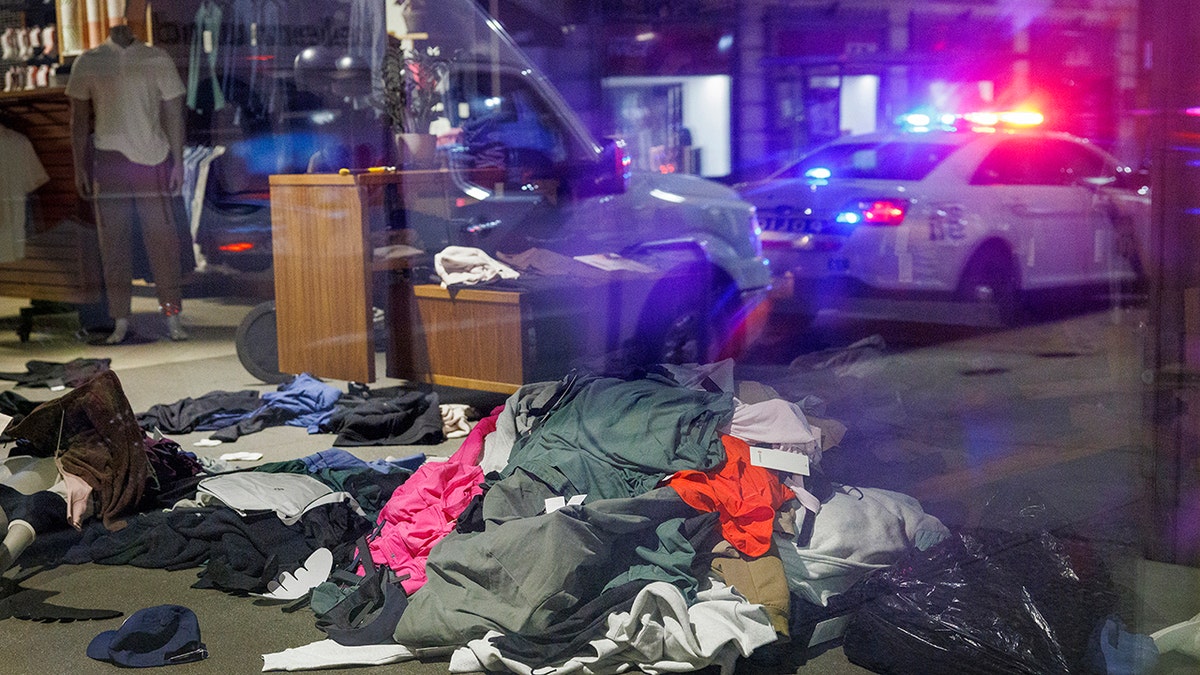 The thefts and unrest stretched from downtown to Northeast and West Philadelphia, with the criminals leaving a destructive trail of shattered glass, dropped clothing, and toppled displays, police said.
A T-Mobile store had its glass door shattered while devices and accessories costing thousands of dollars were haphazardly discarded. An Apple store suffered a similar fate, with many items taken and dropped by the looters as their anti-theft equipment rendered the devices useless.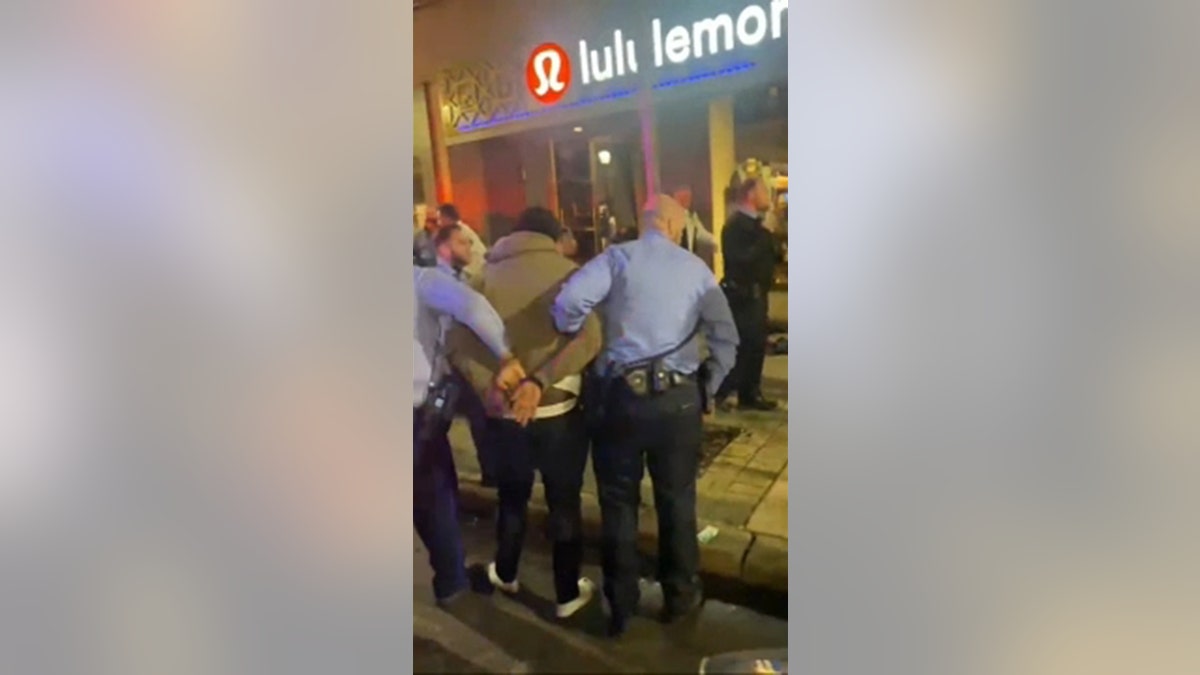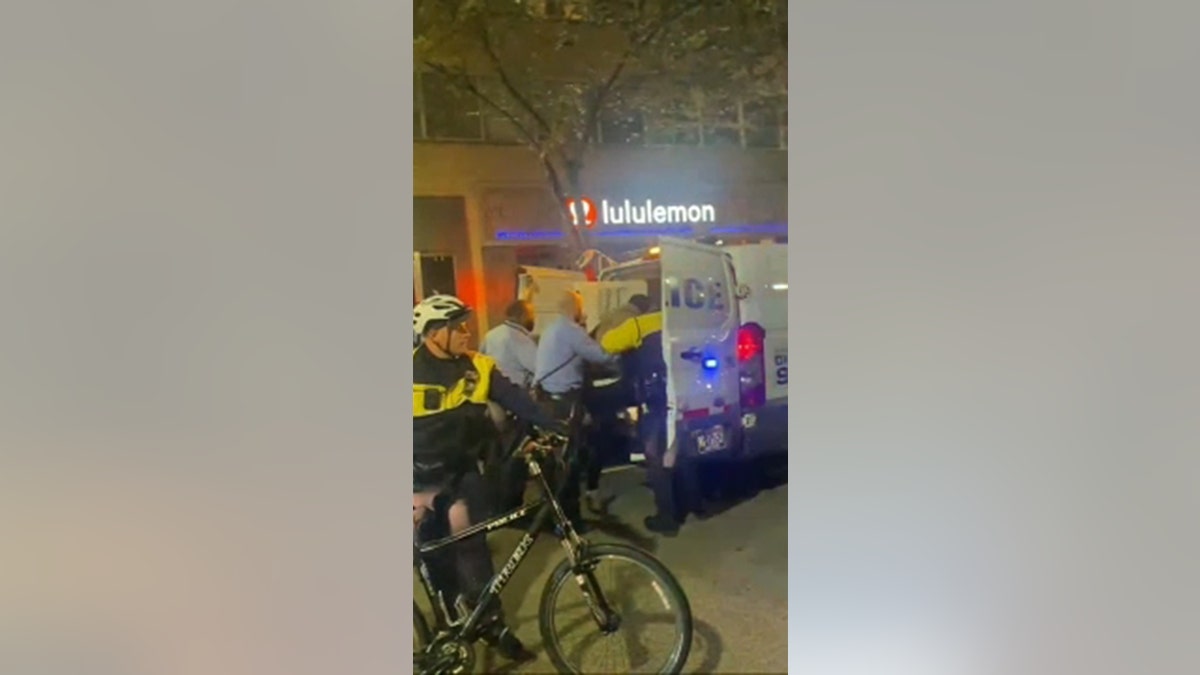 Police are also investigating "that there was possibly a caravan of a number of different vehicles that were going from location to location" and that a couple of people in the caravan were in custody, Stanford said.
FOX 29 reported two police officers were injured and subsequently hospitalized when they were en route to respond to the looting.
Philadelphia police told Fox News Digital in a statement that the looting began "shortly before 8:00 p.m." when officers noticed a high number of young males "dressed in black attire and wearing masks" in Philadelphia's downtown business corridor, called Center City.
Around the same time, police dispatch began receiving 911 calls about a theft at a Foot Locker store. When police arrived, they found it had been "ransacked in a coordinated attack." At least one adult suspect was arrested and others fled the scene.
Philly police confirmed other arrests were made later.
CLICK HERE TO GET THE FOX NEWS APP 
By 8:12 p.m., officers received similar calls at Lululemon, and additional suspects were arrested. Then, calls directed police to the Apple Store.
"The Philadelphia Police Department is committed to maintaining public safety and order," police said.
The department is actively investigating the incidents.
Fox News' Sarah Rumpf-Whitten and Landon Mion and The Associated Press contributed to this report.