Passengers fled a public bus on a highway in Argentina after it burst into flames in dramatic footage.
On Wednesday, August 16, police security cameras captured the large bus merging onto the General Paz highway in Buenos Aires, Argentina. 
Moments later security cameras capture the bus pulling into the breakdown lane and a small crowd of passengers tumbling out of the bus and fleeing as smoke slowly drifted from the vehicle.
PANAMA CANAL EXTENDS TRANSIT RESTRICTION, RAISING CONCERNS OVER CONSUMER GOODS PRICES
Video captures the fire spreading like wildfire and rapidly engulfing the entire bus and spreading across the asphalt and into the grassy embankment.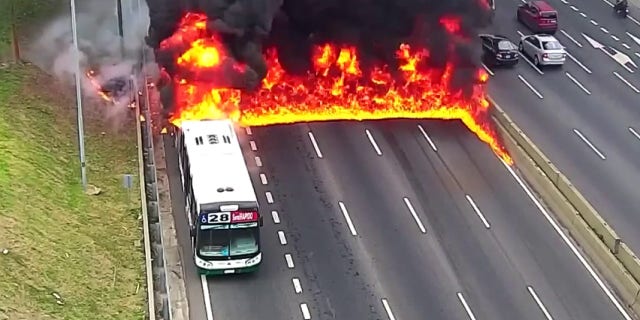 At first, incoming traffic was able to navigate around the fiery blaze, but after the fuel spillage, the flames impeded all three lanes of traffic, bringing traffic to a halt.
CLICK HERE TO GET THE FOX NEWS APP
Local media reported that the cause of the fire was an electrical mechanical problem that was quickly put out by firefighters.
No one was injured during the incident.