Columbus area residents Beth and Kyle Long held hands as they walked into the Franklin County early voting centre to cast their ballots for a proposed constitutional amendment that would enshrine abortion and other reproductive rights into the state's constitution.
Beth, now 18 weeks pregnant after in vitro fertilisation, is at the same point in her pregnancy as she was in January when she got an abortion after learning the fetus she was carrying had a fatal condition.
"The doctors came back and told us, 'all of her organs, except her heart, are growing on the outside of her, enmeshed in the placenta," she told NPR. "'[They said] there is nothing we can do to go through and separate that. No fetus has ever survived this condition, and yours will not be the first.'"
The Longs were featured in an ad for Issue 1, one of many that have dominated the airwaves in a contest that many view as a critical precursor to the 2024 elections.
"I think it's important for us to know that no one else here in Ohio has to go through what we went through," Kyle Long said before voting.
If voters approve the measure, which is similar to one passed in Michigan last year, Ohio would become the seventh state to pass abortion rights since the US Supreme Court overturned Roe v. Wade last summer.
Should the amendment pass, it could stop the return of a law that prohibits abortion at the point when fetal cardiac activity can be detected, as early as six weeks into pregnancy.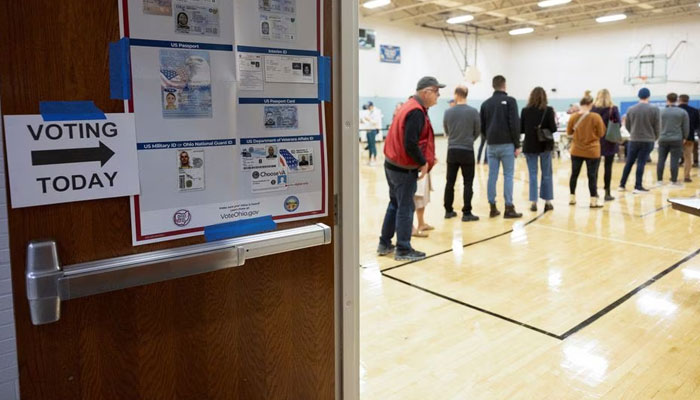 A county court put that law on hold a year ago after doctors brought a lawsuit claiming that while it had an exception for the life of the mother, some women were being put in situations that endangered their lives. 
The state appealed that ruling to the Republican-dominated Ohio Supreme Court, which includes three justices who have publicly gone on record as opposing abortion rights.
In the weeks leading up to the vote, supporters and opponents of the amendment have been knocking on doors and holding rallies at the Ohio Statehouse.
Aaron Baer, president of the Center for Christian Virtue, says churches are working to defeat the amendment.
"What it is going to take for us to win is the church, the body of Christ, and pro-life activists rising and highlighting how radical this abortion amendment is," says Baer.
Baer echoes the messaging of many opponents of the amendment, who say it would do away with the state law that requires parental consent or a court order before a minor under 18 can get an abortion.
Baer says the "health of the mother exception" that permits abortion past the point of viability would allow for abortions up to birth. Doctors and attorneys alike have disputed that argument.
While much of the opposition's support is coming from Catholic and evangelical churches and organisations, not all churches are in alignment.
"For us, it is a justice issue and we follow a God that tells us to care for the health and wellness of all people," says Katelin Hansen, who leads an outreach program with the United Methodist Church in Columbus.
Before 2016, Ohio was considered a bellwether, swing state. But after voting for former President Donald Trump twice and consistently electing Republicans to control the legislature, all statewide offices, and the Ohio Supreme Court, the Buckeye State is thought to be strictly in the red column these days.
Still, various polls consistently show somewhere between 55 and 58% of Ohioans support at least some abortion rights.
Republican Gov Mike DeWine is a staunch opponent of the amendment.
DeWine and his wife, Fran, appeared in a campaign ad, saying the measure is "not right for Ohio and goes too far."
However, DeWine acknowledged many Ohioans disagree with the six-week abortion ban he signed in 2019, especially following last summer when it was in place for 82 days after the US Supreme Court rules on Roe.
It was during that time that a ten-year-old rape victim went to Indiana for an abortion because she couldn't get the procedure in Ohio, since the ban doesn't have an exception for rape and incest.
Although DeWine didn't suggest adding those exceptions back in, he did promise voters as they headed to the polls that if they reject the amendment, he and other state leaders would come up with an exception for rape and incest.
"The vast majority of people in Ohio feel that there needs to be an exception for rape and incest so that certainly will be part of what we all come up with if this thing is defeated," DeWine says.
But that's a tough sell to supporters of the amendment like Lauren Blauvelt with Ohioans United for Reproductive Rights.
"The governor and other politicians have had a decade to have a conversation about what would be reasonable," Blauvelt says.
In addition to the governor talking about possible adjustments to sway voters to the "no" side, Republicans at the Statehouse have taken other actions to try to defeat the amendment. Knowing abortion would be on the ballot in the fall, Republican lawmakers put a measure on a special August ballot to change the constitution to require a 60% threshold of passage for constitutional amendments rather than a simple majority. It failed.
Afterwards, the Ohio Ballot Board, controlled by Republicans who oppose abortion rights, approved contentious summary language that voters will see on this current ballot.
That language, which differs from the actual language in the amendment, omitted part of the amendment that addresses birth control and changed the word 'fetus' to 'unborn child.'
The Ohio Supreme Court allowed most of that controversial ballot language to stand.
The head of the Ballot Board, Secretary of State Frank LaRose, is one of the Republicans running in a primary to oppose Democratic US Senator Sherrod Brown next year.
Recently, LaRose removed 27,000 voters from the rolls during the early voting period. LaRose's office said they removed registrations for those