Wildfires termed as 'deadliest of the century'.
Governor Green warns death toll to increase.
Officials vow to examine state's emergency notification systems.
---
KAHULUI: The wildfires in the Hawaiian island of Maui had been declared the 'deadliest of the century' in the United States (US) as the death toll climbed to 89, officials on Saturday.
The government is under scrutiny, and the state's emergency alert system is being criticised as the death toll is expected to rise in the coming days. Search and rescue teams continue to sift through the ruins of Lahaina.
According to the Federal Emergency Management Agency (FEMA), the cost to rebuild Lahaina was estimated at $5.5 billion as more than 2,200 structures had been damaged or destroyed and more than 2,100 acres (850 hectares) burned.
On Saturday afternoon, Hawaii Governor Josh Green warned at a press conference the death toll would continue to increase as more victims were discovered. Dogs trained to detect bodies have covered only 3% of the search area, Maui County Police Chief John Pelletier said.
Officials vowed to examine the state's emergency notification systems after some residents questioned whether more could have been done to warn them before the fire overtook their homes. Some were forced to wade into the Pacific Ocean to escape.
Sirens stationed around the island — intended to warn of impending natural disasters — never sounded, and widespread power and cellular outages hampered other forms of alerts.
The state's attorney general, Anne Lopez, said she was launching a review of the decision-making before and during the fire, while Green told CNN he had authorised a review of the emergency response.
Officials have described a nightmarish confluence of factors — including communications network failures, wind gusts of up to 80 miles per hour (130 kph) from an offshore hurricane, and separate wildfire dozens of miles away — that made it nearly impossible to coordinate in real-time with the emergency management agency that would typically issue warnings and evacuation orders.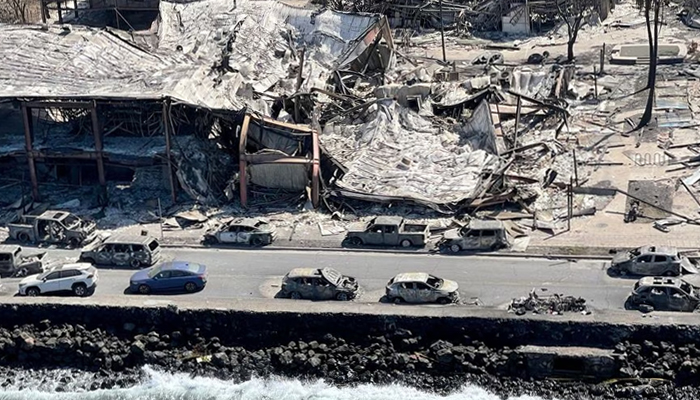 "Over time, we'll be able to figure out if we could have better-protected people," said Green. He said the multiple fires and dangerous winds created extraordinarily difficult conditions.
The death toll made the inferno, which erupted on Tuesday, Hawaii's worst natural disaster, surpassing a tsunami that killed 61 people in 1960, a year after Hawaii became a US state.
The latest figure exceeded the 85 people who perished in a 2018 fire in the town of Paradise, California, and was the highest toll from a wildfire since 1918, when the Cloquet fire in Minnesota and Wisconsin claimed 453 lives.
Officials have secured 1,000 hotel rooms for people who lost their homes and are arranging for rental properties to serve as housing at no cost to families, Green said. More than 1,400 people had been taken in at emergency shelters.
Deanne Criswell, the FEMA director, said the agency had 150 people on the ground and that additional search teams and dogs would be arriving within a day or two.
Rapid advance
Authorities began allowing residents back into west Maui on Friday, although the fire zone in Lahaina remained barricaded. Officials warned there could be toxic fumes from smouldering areas and said search operations were continuing.
Hundreds of people were still missing, though a precise count was not clear.
At a family assistance centre in Kahului, June Lacuesta said he was trying to locate nine relatives who had not been heard from since Tuesday.
"When I see Lahaina town itself, I cannot describe the feelings I get," said Lacuesta, who was headed to a church shelter next to continue his search.
The disaster began just after midnight on Tuesday when a brush fire was reported in the town of Kula, roughly 35 miles (55 km) from Lahaina.
About five hours later, power was knocked out in Lahaina. In updates posted on Facebook that morning, Maui County said a three-acre (1.2-hectare) brush fire cropped up in Lahaina around 6:30am but had been contained by 10am.
Subsequent updates were focused on the Kula fire, which had burned hundreds of acres and forced some local evacuations. But at around 3:30pm, according to the county's updates, the Lahaina fire flared up.
Some residents began evacuating while people including hotel guests on the town's west side were instructed to shelter in place. In the ensuing hours, the county posted a series of evacuation orders on Facebook, though it was not clear whether residents were receiving them as people frantically fled the fast-advancing flames.
Some witnesses said they had little warning, describing their terror as the blaze destroyed the town around them in what seemed to be a matter of minutes.