Federal and state officials Tuesday confirmed they will be contacting the families of three fire victims, whose bodies were identified in wake of the ferocious wildfires that ravaged the Hawaiian island of Maui last week.
The Federal Emergency Management Agency (FEMA) confirmed in a briefing Tuesday afternoon that three victims were identified from the ash from fingerprints with their families' receiving the grim news first, per Hawaiian state laws. Officials will later release the information to the public after reaching out to the families of the victims.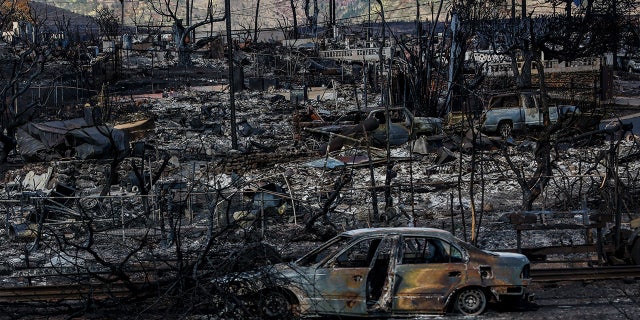 Maui County Officials said Monday night that the death toll had climbed to 99 and is expected to rise as FEMA and local agencies continue tirelessly work to identify fire victims.
About 25% of the burn area, or 5 square miles, has been searched, FEMA confirmed. 
BIDEN BREAKS SILENCE ON HAWAII WILDFIRES, APPROVES DISASTER RELIEF: 'REALLY TOUGH STUFF' 
More than 389 FEMA workers, 75 Health and Human Services specialists, and 20 cadaver dogs are leading the search through the ash and rubble, authorities said.
FEMA confirmed that 1,500 Maui residents are still "unaccounted for," a week following the fire. Authorities said that some of the unaccounted residents are missing while some are unable to communicate to officials due to loss of cellphone service.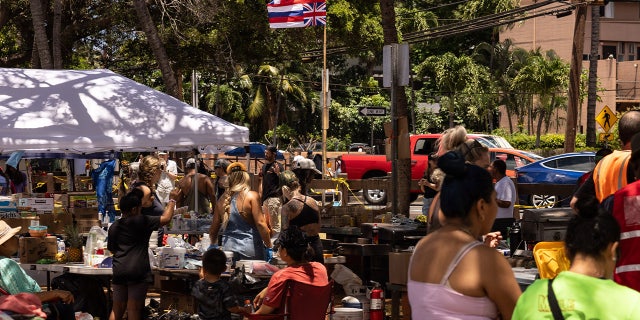 Officials are urging displaced residents to remain patient as they painstakingly work to identify the at least 99 victims.
The federal government is providing displaced residents with assistance, and continue to urge Maui residents to apply for disaster assistance. 
CHRISTINA HALL REVEALS HER PARENTS WERE FORCED TO EVACUATE AMID DEADLY MAUI WILDFIRES: 'GRATEFUL THEY ARE OK'
There are still 4,600 customers without power with many staying with family and friends. FEMA confirmed that approximately 500 residents are staying at federally provided shelters.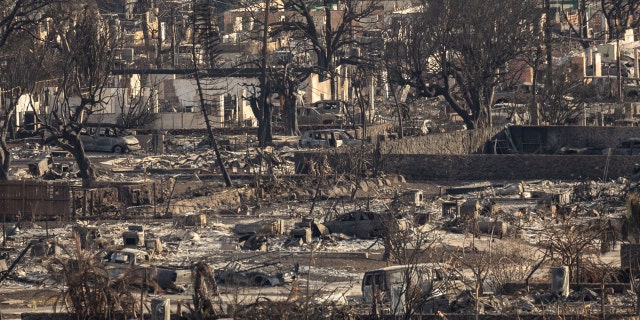 Some residents, however, have already expressed concern that the 19th century capital of the Kingdom of Hawaii – long known as a cultural and historic travel destination — could lose its character if outside investors are permitted to buy up distressed properties.
Hawaii Gov. Josh Green said he is already exploring legal options to prevent any immediate sales of properties that were damaged or destroyed.
FOX CORPORATION LAUNCHES DONATION DRIVE FOR AMERICAN RED CROSS HAWAIIAN WILDFIRES RELIEF
"For my part, I will try to allow no one from out of state to buy any land until we go through this crisis to decide what Lahaina should be," he said Monday.
FEMA confirmed the Green's sentiments, saying that the agency is, "working on combating misinformation."
The agency said that residents have no risk for personal property or land being taken by the government.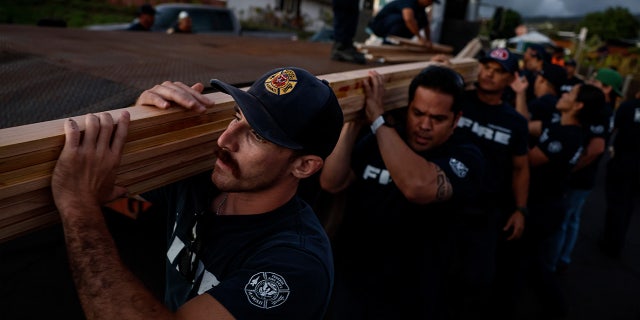 President Joe Biden, who remained quiet and was criticized for his "no comment" in the days following the fire, finally weighed in on the disaster during an event Tuesday in Wisconsin, where he said in a speech that he and Jill Biden will travel to Hawaii "as soon as we can." The president added that he doesn't want to "get in the way," of the recovery efforts.
"My wife Jill and I are gonna travel to Hawaii as soon as we can, and that's what I've been talking to the governor about. I don't want to get in the way. I've been to too many disaster areas, but I want to go and make sure they've got everything they need, and I want to be sure we don't disrupt the ongoing recovery efforts," he added.