Among the charred homes in a neighborhood reduced to ash from the Maui fires stands a single red-roofed home that appears virtually unscathed.
Images of the 100-year-old wood home on Front Street show the residence still standing while the surrounding area is reduced to rubble in the Maui town of Lahaina, which was virtually destroyed by the fires.  
"It looks like it was photoshopped in," homeowner Trip Millikin told the Honolulu Civil Beat. Millikin said he and his wife were on a trip to Massachusetts when they heard news of the fire.
HAWAII GOV AGREES CLIMATE CHANGE 'AMPLIFIED THE COST OF HUMAN ERROR' ON MAUI FIRES
They later learned that the whole neighborhood had been caught in the blaze and would likely burn down. But the next morning, aerial footage appeared to show the home intact. 
"We started crying," Millikin said. "I felt guilty. We still feel guilty."
The couple purchased the home in 2021 but were unsure of why the home was sparred. They said the home had been in disrepair when they bought it and made some renovations. 
The home was built using California redwood, Millikin said, which has some natural fire-resistant properties. So did the home next door, which was burned to the ground, the Civil Beat report said. 
"It's a 100% wood house, so it's not like we fireproofed it or anything," Dora Atwater Millikin told the Los Angeles Times.
The devastating wildfires have ripped through Maui and killed more than 100 people. On Sunday, Maui County Mayor Richard Bissen said some 850 people were still missing.
REP LUNA SHREDS BIDEN'S 'NO COMMENT' ON DEADLY HAWAII FIRES AFTER HE SHELLED OUT ANOTHER $200M TO UKRAINE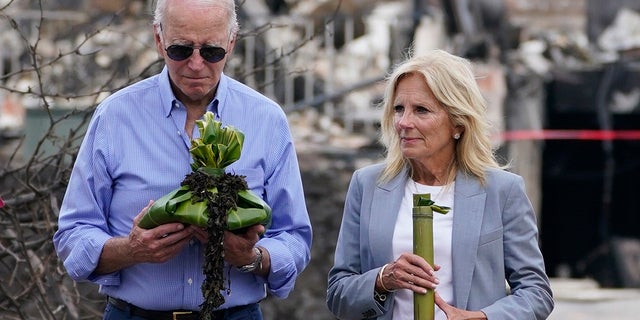 During the renovation, which the couple mostly did themselves, Millikin installed a commercial-grade steel roof, the report said. President Biden and First Lady Jill Biden visited Hawaii on Monday to tour the devastation following criticism of his silence on the fires. 
The Bidens interrupted a weeklong vacation in the Lake Tahoe area for the five-hour flight to Lahaina.
The White House announced Monday that Biden has named Bob Fenton, a regional leader at the Federal Emergency Management Agency, to be the chief federal response coordinator for the Maui wildfires, ensuring that someone from his administration will be responsible for long-term recovery efforts. 
It will take years to rebuild Lahaina, where just about every building was obliterated.
CLICK HERE TO GET THE FOX NEWS APP
"We're going to rebuild the way the people of Maui want to rebuild," said Biden, adding that his administration would be focused on respecting sacred lands, cultures and traditions.
The Associated Press contributed to this report.