A Los Angeles man allegedly stole a golf cart Sunday night and led police on a brief pursuit while carrying a dog on his lap, according to police.
The suspect was taken into custody following the brief chase, the Los Angeles Police Department said. The man was wanted for assault with a deadly weapon.
The chase began at around 9:30 p.m. after the suspect stole a golf cart with the word "security" written on the side from a local shopping center, police told FOX 11 LA.
LOS ANGELES WOMAN ROBBED AT GUNPOINT AFTER SUSPECT FOLLOWS HER INTO PARKING GARAGE, VIDEO SHOWS
Video footage of the pursuit showed the suspect, who was shirtless and barefoot, driving the golf cart with a dog in his lap. Officers could be seen throwing multiple spike strips toward the golf cart during the chase, but the strips were unsuccessful.
The driver allegedly never reached speeds much higher than 18 miles per hour, but was still able to evade officers multiple times. At one point, he can be seen driving into a parking lot and looping around the building.
GIRL ATTACKED AT LOS ANGELES MCDONALD'S AS PEOPLE PULLED OUT PHONES TO RECORD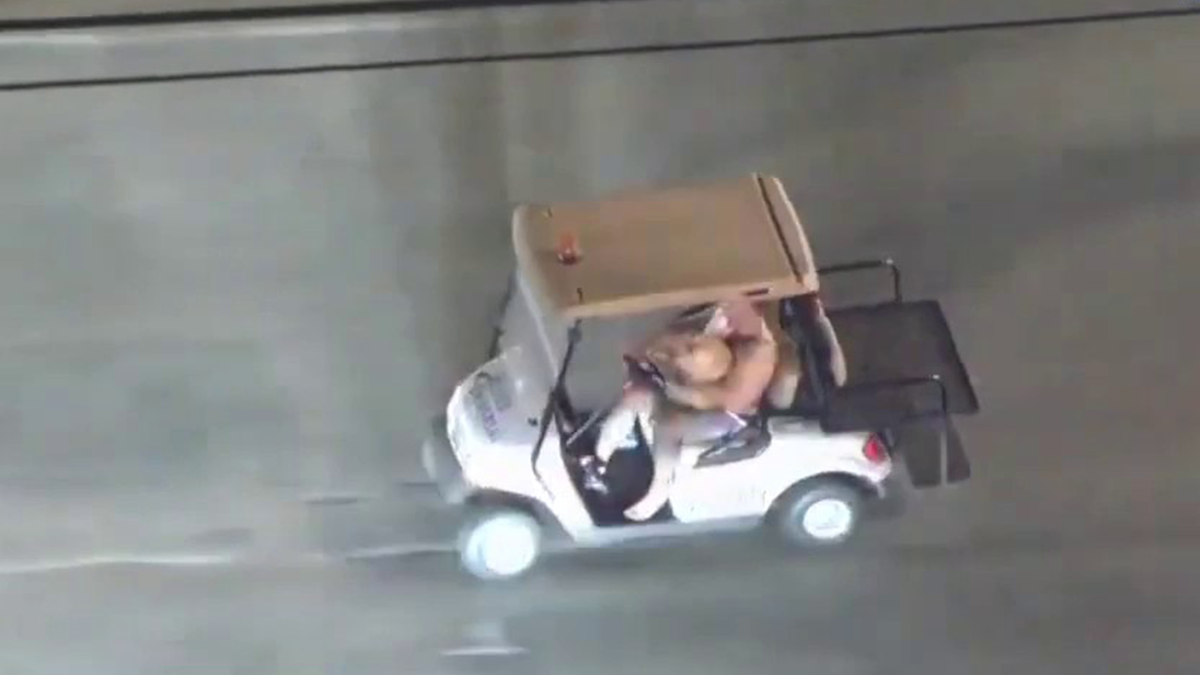 Officers brought the pursuit to an end just minutes later as the suspect attempted to drive into another parking lot, where a semi-truck was unloading a delivery.
The driver jumped out of the golf cart while holding the dog and attempted to flee by running around the truck when several officers cut him off and took him to the ground.
As the suspect was being detained, another officer was seen picking up the dog to remove it from the area.