London's Metropolitan Police are facing backlash after one of its advisers was reportedly revealed to be an activist who has made statements critics say call for Israel's destruction.
Attiq Malik, an adviser with the Metropolitan Police, was caught on video encouraging chants of "from the river to the sea, Palestine will be free" during 2021 protests, according to a report from the Telegraph.
The phrase has been called "an antisemitic slogan commonly featured in anti-Israel campaigns and chanted at demonstrations" by the Anti-Defamation League and has been denounced by the British government as "deeply offensive," according to the report.
"This rallying cry has long been used by anti-Israel voices, including supporters of terrorist organizations such as Hamas and the PFLP, which seek Israel's destruction through violent means," reads an explainer of the phrase on ADL's website. "It is fundamentally a call for a Palestinian state extending from the Jordan River to the Mediterranean Sea, territory that includes the State of Israel, which would mean the dismantling of the Jewish state."
UK POLICE HAVE NEW EXPANDED POWERS TO CRACK DOWN ON PROTESTS
Malik's role with the Met Police has become increasingly controversial in recent weeks, most notably after he was present in the police operations room during anti-Israel protests in London last month. Critics had already been noting the lack of police response to protesters calling for "jihad" during demonstrations, according to reports.
The attention to Malik's involvement with the police comes as the agency has also been under fire for seemingly unequal policing practices that have favored pro-Palestinian demonstrators, including the arrest of a man who posted a video on social media criticizing people for putting up Palestinian flags in a U.K. neighborhood. 
According to a report from the Express, the viral video features the man saying, "Look at this c— here," while zooming in on Palestinian flags affixed to lamp posts and road signs, adding that "you let him into this country and this the s— they come up with."
The man was later arrested "on suspicion of a racially aggravated Section 5 public order offense," according to the report, and was held in custody at an East London Police Station.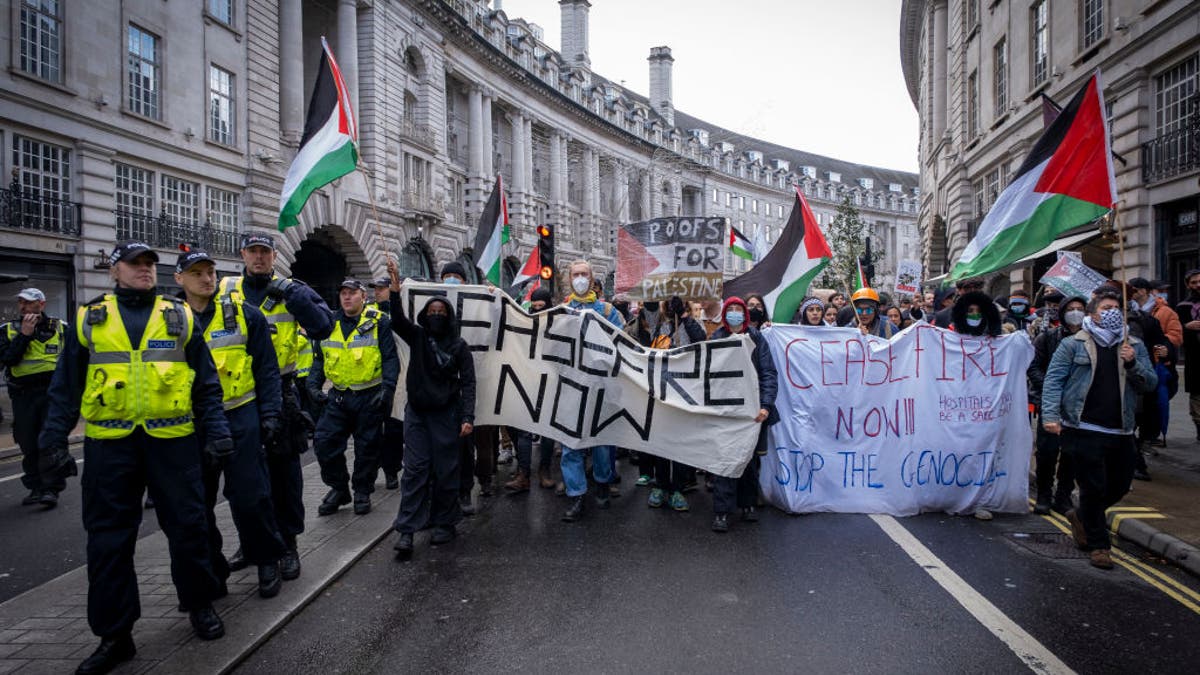 Reached for comment by Fox News Digital, the Metropolitan Police confirmed the man's arrest, saying he was later "bailed to return on a date in late November."
"More than 1,000 officers are providing high visibility patrols across London – particularly where we know communities feel vulnerable," a police spokesperson said. "We take all allegations of hate crime incredibly seriously. Where offenses have taken place, our officers are attending, supporting victims and making arrests – and we will continue to do so."
PROTESTERS IN LONDON CALL FOR CEASE-FIRE IN GAZA
Asked if there was a similar crackdown on antisemitism postings on social media, the police spokesperson said they would not be adding "anything further."
Critics have also taken to social media to blast police over the treatment of U.K. veterans ahead of threats by pro-Palestinian protesters to march on the country's main memorial for war dead during the country's Remembrance Day on Saturday.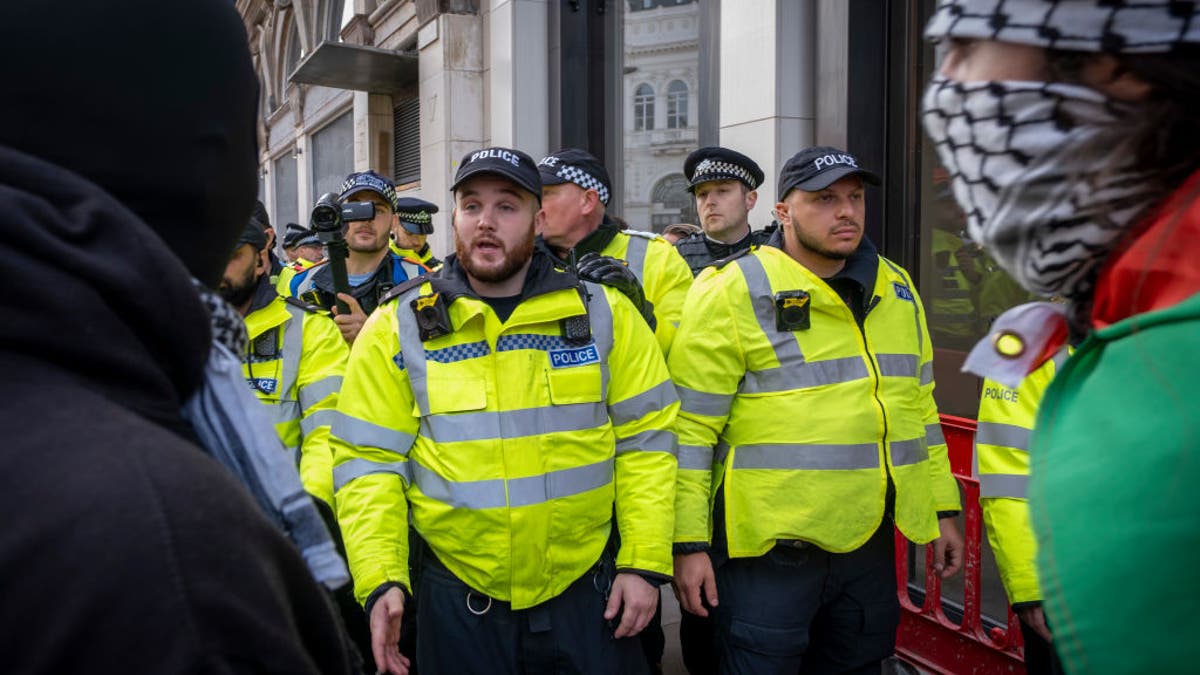 In one viral video posted to X, police are seen telling British veterans to stay behind barricades while holding British flags, with one protester pointing out that demonstrators have been allowed to march down the road waving Palestinian flags without similar scrutiny.
Meanwhile, British broadcaster and former Brexit Party leader Nigel Farage called out police for their more friendly tone with pro-Palestinian protesters, posting a video showing an officer fist bumping one of the demonstrators. 
CLICK HERE TO GET THE FOX NEWS APP
"Those that we pay to protect us are now motivated by cowardice," Farage said on X.