Los Angeles Mayor Karen Bass said the city has already begun outreach to the city's homeless population as Tropical Storm Hilary approaches the city, including many who live on tents near riverbeds.
"Outreach started a couple of days ago," Bass said during an appearance on CBS "Face the Nation" Sunday. "We have hundreds of people on our river beds, and every time we have a rain event, helicopters drive by as well as hundreds of outreach workers go by in advance to tell them to seek shelter."
According to a report from KTLA, workers with the Los Angeles Homeless Service Authority began outreach to the homeless population in riverbed areas on Thursday, starting with locations within flood control areas through the San Gabriel River Watershed, L.A. River, Sepulveda Basin and Hansen Dam.
HILARY WEAKENS TO TROPICAL STORM, BUT CALIFORNIA STILL FACES DANGER AMID STATE OF EMERGENCY
LAHSA said that 50 people had already been moved from the Santa Fe Dam area to safer locations, while additional teams are being activated throughout the weekend to help move more people who are in areas prone to flooding. The teams have also been working with the Red Cross and city and county officials to explore using facilities such as parks, gymnasiums, and hotels as emergency storm shelters.
Bass told CBS that the city has shelters available for homeless residents.
"We do have shelters open," Bass said.
But Bass also noted that the city and county combined have a homeless population of nearly 70,000, most of whom live in tents outside.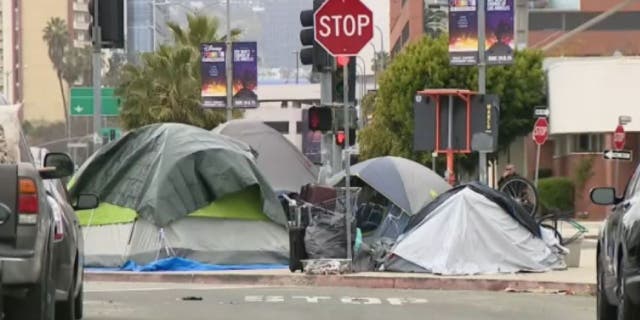 HURRICANE HILARY: STATE OF EMERGENCY DECLARED IN CALIFORNIA AS MILLIONS BRACE FOR LIFE-THREATENING FLOODING
Pressed on what she's doing to tackle the city's homeless problem, Bass said that she declared a state of emergency on her first day in office that has helped move 14,000 people.
"You are talking about a tremendous amount of people," Bass said. "We did declare a state of emergency on my first day in office and in my first six months, we housed 14,000 people. But it just shows you the magnitude of the problem."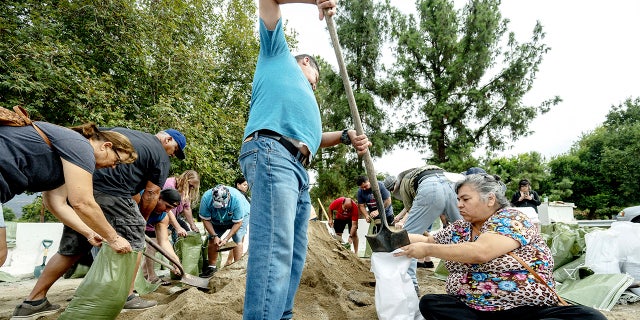 Hilary was downgraded to a tropical storm on Sunday as it continued its path toward the coast of Mexico. From there, the storm is expected to move into Southern California and bring "catastrophic and life-threatening flooding," according to the National Weather Service.
CLICK HERE TO GET THE FOX NEWS APP
"We continue to be very concerned for the potential for life-threatening flash flooding, potentially catastrophic impacts," National Hurricane Center Director Dr. Michael Brennan said Sunday.