No Hamas fighter crossed fence over the past 24 hours: Israel.
Apartments , mosque, hospitals among sites attacked in Gaza.
Citizens from Italy, Thailand,  and Ukraine perished in attacks.
---
The death toll from the ongoing conflict between Israel and Hamas has risen to 1,800, with approximately 1,000 Israelis killed and 830 Palestinians reported martyred. 
Israel refused a request to bring food and medical supplies into the Gaza Strip, Hussein Al-Sheikh, secretary general of the executive committee of the Palestine Liberation Organization (PLO) said Tuesday.
"We call on the international humanitarian institutions and the international community to intervene urgently to stop the aggression, allow the entry of relief materials, and restore electricity and water, because the Gaza Strip is facing a major humanitarian catastrophe," he said.
Additionally, around 200,000 Palestinians have been displaced due to the airstrikes on the Gaza Strip. The situation continues to deteriorate, with both sides engaged in hostilities, leading to the exacerbation of the humanitarian crisis in the region.
Joe Biden says Hamas attacks on Israel were 'sheer evil'
US President Joe Biden, in a televised speech Tuesday, said that the attack by Hamas on Israel was "sheer evil."
"There are moments in this life — I mean this literally — when a pure unadulterated evil is unleashed on this world," the 80-year-old said in a televised speech. "This is an act of sheer evil."
The Israeli military spokesperson, Daniel Hagari, stated that no Hamas fighters had crossed the fence in the past 24 hours, but the possibility that some remained in Israeli-controlled areas was not ruled out. 
Mines were being planted in areas where the barrier was breached to prevent further infiltrations.
The situation has been exacerbated by Hamas's unprecedented ground, air, and sea assault, which Israel has compared to the September 11, 2001 attacks on the US. 
The conflict has left Israel reeling, with a significant loss of life and damage to infrastructure.
Rockets fired from Gaza and Lebanon
Hamas fired rockets into Israel's city of Ashkelon from Gaza, following warnings to residents to evacuate their homes. Additionally, rockets were fired from southern Lebanon towards Israel, leading to retaliatory fire.
The situation on the Israeli-Lebanese border has escalated, with the exchange of rocket fire raising concerns of further violence in the region.
Bodies of Hamas fighters found in Israel
Israeli authorities have reported finding around 1,500 bodies of Hamas fighters in Israel around the Gaza Strip. These discoveries have occurred as Israeli airstrikes continue to target the Palestinian enclave. 
Security forces claim to have "more or less restored control over the border" with Gaza, and efforts are being made to build infrastructure for future operations.
Iran denies involvement in Hamas attack
Iran's Supreme Leader Ayatollah Ali Khamenei has denied any Iranian involvement in the Hamas attack on Israel, despite Iran's support for the Palestinian group. 
Khamenei emphasised that Iran defends Palestine and its struggles but denied any direct role in the military operation. 
The conflict has escalated Middle East tensions, and Hamas has called on resistance fighters in various regions to join its efforts.
Gaza hospitals left without aid
Hospitals in Gaza are facing a dire situation, with a lack of aid following Hamas's attack in Israel and the Israeli army's response. 
Humanitarian organisations are calling for a humanitarian corridor to ensure the entry of urgent medical aid into Gaza's hospitals. 
Israel's declaration of a "total blockade" on Gaza, including the prohibition of food and fuel supplies, has raised concerns about potential war crimes.
International reactions and concerns
The ongoing conflict has had global repercussions, including a surge in oil prices due to fears of tightening supplies. Various countries and organizations are reviewing their aid and support to the Palestinians in light of the situation. 
Diplomatic efforts to end the conflict have faced significant challenges, given the unprecedented nature of the Hamas assault. Turkish President Recep Tayyip Erdogan has engaged in diplomatic efforts, urging both sides to respect the "ethics" of war.
Furthermore, the United Nation's human rights commissioner said Israel's total siege of the Gaza Strip, depriving civilians of goods essential for survival, is banned under international law.
The statement comes a day after Israel imposed a complete blockade on the Gaza Strip including a ban on electricity, water, food, and fuel, and called up an unprecedented 300,000 reservists, raising fears it planned a ground assault.
Volker Turk, the UN high commissioner for human rights, said people's dignity and lives had to be respected as he called for all sides to defuse the "explosive powder-keg situation".
"International humanitarian law is clear: the obligation to take constant care to spare the civilian population and civilian objects remains applicable throughout the attacks," Turk said in a statement.
The siege risk seriously compounding the already dire human rights and humanitarian situation in Gaza, including the capacity of medical facilities to operate, especially in light of increasing numbers of injured, the statement said.
"The imposition of sieges that endanger the lives of civilians by depriving them of goods essential for their survival is prohibited under international humanitarian law," Turk said.
Any restrictions on the movement of people and goods to implement a siege must be justified by military necessity or may otherwise amount to collective punishment, the statement added.
Hamas threatens hostages
The Hamas movement threatened to execute an Israeli captive every time Israel bombed a Palestinian home without warning, with the death toll from the clashes crossing 1500.
The Israeli military has claimed that it regained "full control" of the Gaza fence that was breached by the Hamas gunmen who infiltrated into southern Israel Saturday, according to Al Jazeera.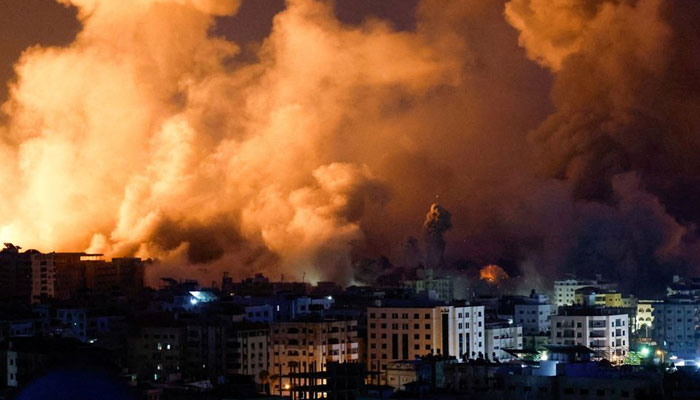 The spokesman for the Israeli military said that there is a possibility of gunmen still within the Israeli-controlled areas.
He added that the military is now planting mines in the parts where the barrier was toppled to prevent further infiltrations.
Israeli TV channels said the death toll from the Hamas attack had climbed to 900 Israelis, with at least 2,600 injured, and dozens taken captive. 
Among the Israeli dead were 260 mostly young people gunned down at a desert music festival, where some of the hostages were abducted.
Israeli Prime Minister Benjamin Netanyahu vowed revenge in a fiery speech accusing Iran-backed Hamas of executing tied-up children and other atrocities. "This vile enemy wanted war and it will get war," he said.
Gaza's Health Ministry said at least 830 Palestinians had been martyred and over 3,726 wounded in Israeli air strikes on the blockaded enclave since Saturday. Apartment blocks, a mosque and hospitals were among the sites attacked, and the strikes destroyed some roads and houses, according to media reports and eyewitnesses.
Israel also bombed the headquarters of the private Palestinian Telecommunication Co, which could affect landline telephone, internet and mobile phone services.
The strikes continued into the night Monday. The occupied-Israeli military said it hit targets in the Gaza Strip from the sea and air, including a weapons depot it said belonged to Islamic Jihad and Hamas targets along Gaza's coastline.
'100 taken captive by Hamas'
Hamas spokesperson Abu Ubaida issued the threat Monday to kill Israelis among the dozens held captive after the surprise attack Saturday morning. 
He said Hamas would execute an Israeli captive for every Israeli bombing of a civilian house without warning, and broadcast the execution.
There was no immediate response from the Israeli military to that threat. Israeli Foreign Minister Eli Cohen said more than 100 people had been taken captive by Hamas during the deadly cross-border incursion over the weekend.
Palestinians reported receiving calls and mobile phone audio messages from Israeli security officers telling them to leave areas mainly in the northern and eastern territories of Gaza, and warning that the army would operate there.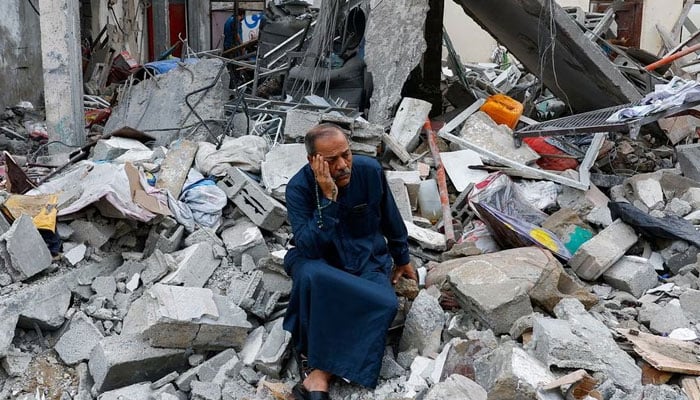 Dozens of people in Gaza City's Remal neighbourhood fled their homes.
"We took ourselves, children and grandchildren and daughters-in-law and we ran away. I can say that we became refugees. We don't have safety or security. What's this life? This is not a life," resident Salah Hanouneh, 73, said.
Sirens warning of incoming rocket fire blared in Israeli communities near the Gaza border overnight.
The announcement that 300,000 reservists had been activated in just two days added to speculation that Israel could be contemplating a ground assault on Gaza, a territory it abandoned nearly two decades ago.
"We have never drafted so many reservists on such a scale," Rear-Admiral Hagari said, adding that "we are going on the offensive."
Washington — which provides Israel with $3.8 billion in military assistance each year — said it was sending in fresh supplies of air defences, munitions and other security assistance to Israel.
The US' top general warned Iran not to get involved in the crisis and said he did not want the conflict to broaden. Iran makes no secret of its backing for Hamas and has applauded the weekend attack while denying any involvement.
"We want to send a pretty strong message. We do not want this to broaden and the idea is for Iran to get that message loud and clear," General Charles Q Brown, the chairman of the Joint Chiefs of Staff, told reporters travelling with him to Brussels.
Foreigners perished in attacks
Governments including Italy, Thailand and Ukraine reported that their citizens had perished in the Hamas attacks. In Washington, Joe Biden announced that at least 11 Americans had been killed and it was likely US citizens were among those held hostage.
"I have directed my team to work with their Israeli counterparts on every aspect of the hostage crisis, including sharing intelligence and deploying experts from across the United States government to consult with and advise Israeli counterparts on hostage recovery efforts," Biden said in a statement.
As Israel conducted brutal strikes on Gaza, the Israeli Defence Minister drew international condemnation by announcing a tightened blockade to prevent food and fuel from reaching the strip, home to 2.3 million people.
"Depriving the population in an occupied territory of food and electricity is collective punishment, which is a war crime," Omar Shakir, Israel and Palestine Director at Human Rights Watch, said in a statement.
Hamas-affiliated media said at least 20 people had been martyred in Israeli strikes on houses in the Gaza Strip late Monday. Palestinian media also reported that an Israeli air strike on a building in Gaza City had martyred two Palestinian journalists and seriously wounded a third.
As it rained, explosions and lightning lit the skies, and the sound of bombings mixed with thunder.
'137,000 people taking shelter with UNRWA'
UN Secretary-General Antonio Guterres said some 137,000 people were taking shelter with UNRWA, the UN agency that provides essential services to Palestinians.
The British, French, German, Italian and US governments issued a joint statement recognising the "legitimate aspirations" of the Palestinian people, and supporting equal measures of justice and freedom for Israelis and Palestinians alike.
They also said they would remain "united and coordinated" to ensure Israel can defend itself.
Egyptian President Abdel Fattah al-Sisi and his Turkish counterpart Erdogan called on Hamas and Israel to immediately end violence and protect civilians, the Egyptian presidency said.
Qatari mediators held urgent calls to try to negotiate freedom for Israeli women and children seized by Hamas in exchange for the release of 36 Palestinian women and children from Israeli prisons.
The prospect that fighting could spread alarmed the region and world.
Lebanese armed group Hezbollah also fired rockets into northern Israel in response to the killing of three of its members due to the shelling of the occupied forces in Lebanon. 
Israel said one of its deputy commanders was killed in an earlier cross-border raid from Lebanon.
Fears of a widening conflict meant more volatility for investors. Oil prices jumped more than 4%, gold gained and the US dollar edged up against the euro. Major international air carriers suspended or reined in service to or from Tel Aviv.