Gaza under "total siege" with ban on food and fuel supply.
WH retracts Biden's claims made based on misinformation.
Israeli PM forms unity government with political rival to fight Hamas.
---
Israeli artillery Thursday continued their barrage of munitions every 30 seconds against largely concealed targets within Gaza, as the total death toll on both sides surpasses 3,000 amid a deepening humanitarian crisis.
Since initiating strikes against Hamas targets on Saturday, approximately 6,000 munitions containing a total of 4,000 tonnes of explosives have been bombarded in Gaza.
The troops have positioned 150 mm artillery guns just meters apart in fields along the border near Netivot and Sderot. These towns were overrun by Hamas in a weekend offensive.
On the Gaza border, Netivot and Sderot regularly experience rocket attacks from the densely populated enclave. Roadblocks have been established to prevent Palestinian fighters from infiltrating southern Israel, while Apache helicopter gunships patrol the skies.
Syria says airports hit by Israeli missiles
In another recent development, Syrian state media reported that Israeli forces launched missile strikes on the country's major international airports, causing damage to runways at Damascus and Aleppo airports.
Flights are being diverted to Latakia, a city in north-west Syria. Israel has not officially commented on the attack, but it has previously targeted sites in war-torn Syria associated with Iran.
The Damascus and Aleppo airports serve both civilian and military purposes, with the latter reportedly serving as transit points for Iranian arms destined for Hezbollah, a powerful militant group in Syria and Lebanon.
An unnamed military source cited by Syrian state media described the Israeli strikes as "simultaneous" and said they had "damaged landing strips in the two airports, putting them out of service."
The source suggested that this action was a "desperate" Israeli attempt to divert attention from the Gaza conflict.
UK to deploy Royal Navy ships to support Israel
The UK will deploy surveillance aircraft and two Royal Navy ships to the eastern Mediterranean to "support Israel" in tracking threats to regional stability, including the transfer of weapons to terrorist groups.
The deployment includes surveillance assets, helicopters, P8 aircraft, and a company of marines. Rishi Sunak emphasised that this military support aims to prevent further escalation, offer deterrence and assurance, and support humanitarian efforts.
The UK government, through its military and diplomatic teams in the region, will also assist international partners in restoring security and ensuring humanitarian aid reaches those affected by the conflict.
'We're here, we're not going anywhere,' says US
Furthermore, US Secretary of State Antony Blinken, on his visit to the Middle East, reassured Israeli Prime Minister Benjamin Netanyahu of Washington's support, with the aim of preventing the conflict with Palestinian Hamas militants from spreading.
Blinken assured Netanyahu of US support for Israel saying, "We're here, we're not going anywhere," according to footage from Netanyahu's office.

Collective punishment 
Amid Israel's complete blockade of the besieged territory, a group of independent United Nations (UN) experts on Thursday deplored that relentless strikes against Gaza amounted to "collective punishment."
Israel said on Thursday there would be no humanitarian break to its siege of the Gaza Strip until all its hostages were freed after the Red Cross pleaded for fuel to be allowed in to prevent overwhelmed hospitals from "turning into morgues".
Israel has vowed to annihilate the Hamas movement that rules the Gaza Strip in retribution for the deadliest attack on Jews since the Holocaust when hundreds of gunmen poured across the barrier fence and rampaged through Israeli towns on Saturday.
The sole electric power station in Gaza has been switched off and hospitals are running out of fuel for emergency generators.
Israel links food to hostages
Israeli Energy Minister Israel Katz vowed his country would not allow basic resources or humanitarian aid into Gaza until Hamas released the hostages it took during its surprise weekend attack on Israel after the United Nations (UN) called for allowing humanitarian aid into the besieged territory.
"Humanitarian aid to Gaza? No electric switch will be turned on, no water tap will be opened and no fuel truck will enter until the Israeli abductees are returned home," he said in a statement.
'UN experts condemn horrific crimes'
While condemning the "horrific crimes committed by Hamas", the group of independent UN experts said that Israel had resorted to "indiscriminate military attacks against the already exhausted Palestinian people of Gaza," Reuters reported.
"They have lived under unlawful blockade for 16 years, and already gone through five major brutal wars, which remain unaccounted for," the group, which includes several UN special rapporteurs, said in a statement.
"This amounts to collective punishment. There is no justification for violence that indiscriminately targets innocent civilians, whether by Hamas or Israeli forces.
This is absolutely prohibited under international law and amounts to a war crime."
UN chief seeks 'unimpeded' humanitarian access to Gaza
United Nations Secretary-General Antonio Guterres has called for allowing humanitarian aid into war-struck Gaza, with the death toll in the region surging past 1,3000 as the war enters its sixth day on Thursday.
Days after Israel announced a total blockade of Gaza, The UN chief took to X, formerly known as Twitter, saying the supply of humanitarian aid, including food and water, "must be allowed" into Gaza.
"Crucial life-saving supplies — including fuel, food and water — must be allowed into Gaza. We need rapid and unimpeded humanitarian access now," the UN chief wrote on X.
Biden backtracks on remarks
While addressing the Jewish community in the US Wednesday, President Joe Biden vividly described the horrors of the Israel-Hamas conflict. Soon after he made the claims that he believed based on confirmed pictures, the White House was forced to retract his statements.
In broad statements regarding his administration's support for Israel amid its conflict with Hamas and efforts to release US hostages, Biden said, "I never really thought that I would see and have confirmed pictures of terrorists beheading children."
According to officials from the White House, Biden was alluding to allegations from Israel of children being killed, referencing several media reports of beheadings.
Israel forms unity government
Israel's leaders on Wednesday formed a unity government, promising to put bitter political divisions aside to focus on the fight against Hamas, Reuters reported.

Former defense minister Benny Gantz, a centrist opposition leader, spoke live on Israeli television alongside Israeli Prime Minister Benjamin Netanyahu and Defense Minister Gallant after forming a war cabinet focused entirely on the conflict.
"Our partnership is not political, it is a shared fate," said Gantz. "At this time we are all the soldiers of Israel."
Netanyahu said the people of Israel and its leadership were united. "We have put aside all differences because the fate of our state is on the line," he said.
Gantz's National Unity Party, which has fiercely opposed judicial reforms proposed by Netanyahu's right-wing coalition, said it will not promote any unrelated policy or laws while the fighting goes on.
Israel has put Gaza under "total siege" to stop food and fuel from reaching the enclave of 2.3 million people, many poor and dependent on aid. Hamas media said on Wednesday that electricity went out after the only power station stopped working.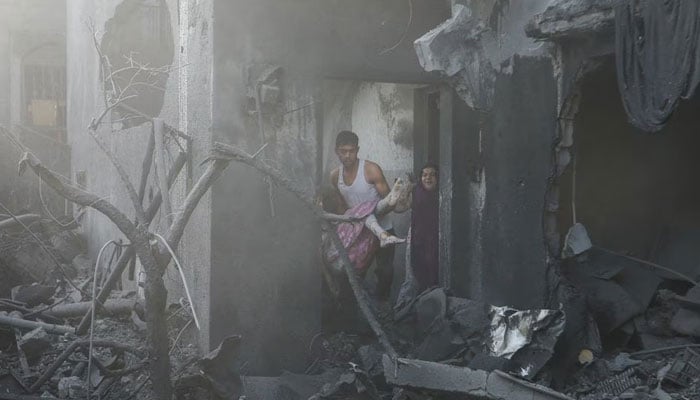 With Palestinian rescue workers overwhelmed, others in the crowded coastal strip searched for bodies in the rubble.
"I was sleeping here when the house collapsed on top of me," one man cried as he and others used flashlights on the stairs of a building hit by missiles to find anyone trapped.
Over 338,000 forced to flee Gaza Strip
More than 338,000 people have been forced to flee their homes in the Gaza Strip, the United Nations said, as heavy Israeli bombardments continue to hit the Palestinian enclave.
"Mass displacement across the Gaza Strip continues," the UN humanitarian agency OCHA said in a statement sent on Thursday.
By late Wednesday, the number of displaced people in Gaza had risen by an additional 75,000 people from the figure given 24 hours earlier, reaching 338,934, it said.
OCHA said nearly 220,000 people, or two-thirds of the displaced people, have sought shelter in schools run by the UN agency supporting Palestinian refugees, UNRWA.
Another nearly 15,000 people fled to schools run by the Palestinian Authority, while more than 100,000 were being sheltered by relatives, neighbours and a church and other facilities in Gaza City.
OCHA said that around 3,000 people had already been displaced within the enclave prior to Saturday's attack.
The bombing campaign has destroyed or rendered uninhabitable at least 2,540 housing units in Gaza, OCHA said, citing numbers from the Gaza Ministry of Public Works and Housing.
Another 22,850 housing units sustained moderate to minor damage, it said.
The UN agency also voiced alarm at the significant destruction of civilian infrastructure damaged in the shelling.
Among other things, it said sewage facilities serving more than a million people had been hit by air strikes, leaving solid waste accumulating in the streets, posing a health threat.
Only power plant in Gaza enclave shuts down
Heavy bombardments have been relentlessly rained down on Gaza, where at least 2,540 housing units have been levelled or rendered uninhabitable, according to the Gaza Ministry of Public Works and Housing.
Rubble, burnt-out cars and broken glass cover the roads in Gaza City, where bombs struck the Hamas-linked Islamic University.
There is rising concern over the worsening humanitarian crisis in the long-blockaded Palestinian enclave, where the sole power plant shut down Wednesday after running out of fuel, Gaza's electricity provider said.
Additionally, medical supplies, including oxygen, were running low at Gaza's overwhelmed Al-Shifa hospital, said emergency room physician Mohammed Ghonim.
The European Union called for a "humanitarian corridor" to allow civilians to flee the enclave's fifth war in 15 years, while Arab League foreign ministers meeting in Cairo called for aid to be allowed into Gaza "immediately".
Gaza resident Mazen Mohammad, 38, said his terrified family spent the night huddled together as explosions shook the area, before emerging in the morning.
"We felt like we were in a ghost town as if we were the only survivors," Mohammad told AFP.
Unrest has also flared in the occupied West Bank, where protests have been held in solidarity with Gaza and 27 Palestinians have been martyred in clashes since Saturday.
---
— With additional input from AFP, Reuters