A Georgia mother of three has been confirmed dead more than two years after she vanished on a hiking trail, authorities announced Tuesday.
Olivia Samantha Fowler, 27, was last seen at 10:30 a.m. August 13, 2021, on Pebblebrook Road in rural Meriwether County wearing flip-flops, a tie-dye shirt and shorts. 
Her family reported her missing the next day.
Her aunt, Tamara McCoy, told 11Alive that her niece had disappeared after seeing a man she had been dating. 
"Olivia loves family – loves, loves, loves her family," the aunt previously said. "She's a great mother with the biggest heart."
'HEINOUS' MOTIVE REVEALED IN RANDOM SHOOTING, MURDER OF TEEN GIRL
Human remains discovered in December 2022 were identified as Fowler through DNA testing, local law enforcement officials confirmed.
Officers "met with and notified the immediate family members" on Monday, Meriwether Sheriff Chuck Smith said in a statement. 
TWO WOMEN VANISH FROM SMALL COLORADO RESORT AREA
"Although the outcome of the disappearance of Olivia Samantha Fowler is not what any of the family or law enforcement wanted, this investigation remains active and ongoing," he said.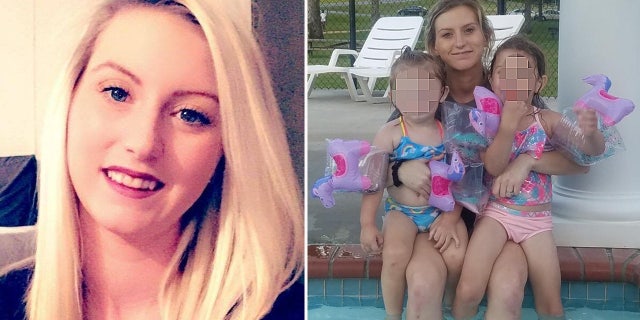 The sheriff added that there is still "much evidence to be analyzed and processed." He did not disclose how she died or whether her death hs been deemed suspicious. 
Her remains were located in a rural area of the county by investigators acting on a tip.
The Georgia Bureau of Investigation (GBI) Crime Scene Unit assisted in the recovery of her body and the processing of the scene, including conducting an autopsy. They sent a DNA sample to the FBI Crime Lab, which was able to identify her, the news release says.
Fowler's loved ones requested privacy to grieve.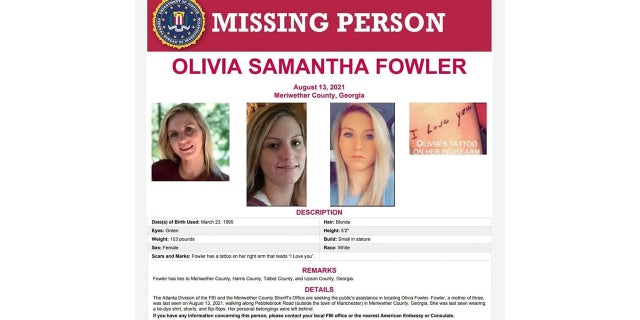 "The family would like the public to know that Olivia was not only a mother, but a daughter, a sister, a grandchild, and an important member of the Fowler family," they said. 
CLICK HERE TO GET THE FOX NEWS APP
Anyone with information is asked to contact the Meriwether County Sheriff's Office at 706-672-6651 or the FBI tip line at 770-216-3000.