Germany experienced a freak hailstorm over the weekend, and up to a foot of hailstones piled up in the streets. 
Officials in the city of Reutlingen deployed snowplows and about 250 firefighters Friday to help clear the roads. 
The Echaz River, which runs through the city, rose by five feet in five minutes and briefly burst its banks due to the ice, the Independent reported. 
The ice blocked storm drains, causing water to flood underground garages and basements. The fire brigades worked to pump the water as soon as possible. 
VIDEO SHOWS HOUSE IN JUNEAU, ALASKA, COLLAPSING INTO FLOODED MENDENHALL RIVER
Trees were also uprooted and gardens wrecked by the sudden ice. 
Authorities said the storm was "localized" and "heavy." Images showed cars buried up to the tops of their tires in ice and water.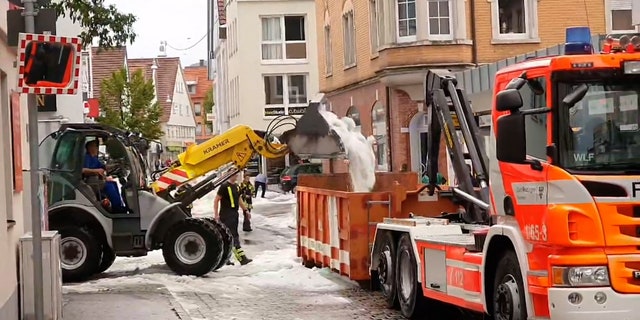 One video circulating online showed a mailman riding his bike and trying to navigate piles of ice created by the street clearances, The Telegraph reported. 
1 DEAD AFTER TORRENTIAL RAINS IN AUSTRIA SWEEP VICTIM INTO SWELLING RIVER
The hailstorm occurred in the southwest, while in Bavaria, just to the east, officials reported temperatures of around 100 degrees Fahrenheit.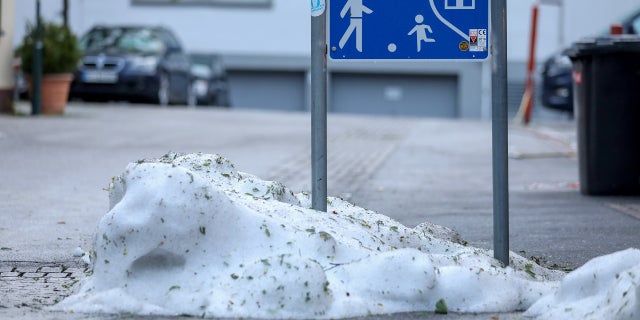 A hailstorm hit Germany two weeks earlier, covering the middle of the country with heavy rain and hail that similarly cause flooding, German outlet DW reported. 
ALASKA RIVER FLOODS AFTER SUICIDE BASIN BROKE IN MENDENHALL GLACIER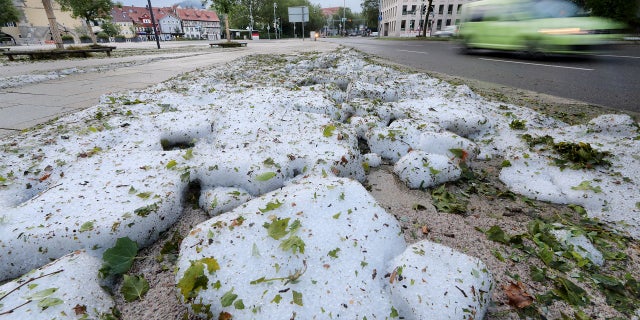 The storm was so severe and the damage so unexpected officials stopped train service between major cities like Frankfurt and Hanover, and some trains were converted to overnight accommodation for stranded passengers. 
Roofs of homes in the town of Waldeck am Edersee were ripped off and trees torn down by the storm. 
DOWNLOAD THE FOX WEATHER APP HERE
Experts have lumped the storms into a series of ongoing and extreme weather conditions across Europe, which have caused severe wildfires in Greece and Italy while Britain and Ireland suffer heavy flooding from torrential rainfall.