U.S. Ambassador to Japan Rahm Emanuel ate seafood to support the local fishing industry of Fukushima as China and South Korea continue to protest the treated nuclear wastewater discharge, which Emanuel argued was little more than economic coercion. 
"If any one of the qualities of scientific rigor, international cooperation and full transparency had been adopted by China during the COVID crisis, lives would have been saved," Emanuel told reporters during a press gaggle at a supermarket. 
"If President Xi has confidence in all the fish that comes from China near their nuclear plants, when Putin comes to visit, he can take him for a meal there," he chided as well.
Emanuel, formerly the mayor of Chicago, visited the city of Soma in Fukushima prefecture following the start of the wastewater discharge plan, which experts have explained will take decades to complete. 
US WARNS OF ISIS RETURN AS CRITICS ACCUSE SYRIA'S ASSAD OF STIRRING 'ETHNIC' TENSIONS
Japanese officials pursued the plan in order to free up space for additional facilities needed to decommission the Fukushima Daiichi nuclear power plant following its 2011 triple-meltdown disaster following an earthquake and tsunami. 
The plant continues to produce wastewater since the melted fuel debris remains in the reactor and so requires constant cooling. Only after the material has been removed can the plant stop producing wastewater, which it has treated to limit its danger and kept on-site in tanks that have taken up all available space. 
Tritium has leaked into the Fukushima groundwater since 2013, but the Tokyo Electric Power Company (TEPCO) has pumped the contaminated groundwater out every year since then. 
WHAT I JUST SAW IN TAIWAN IS THE KEY TO STOPPING A CHINESE INVASION
Japanese Prime Minister Fumio Kishida on Thursday attended a lunch meeting with three of his cabinet ministers, all of whom consumed seafood and rice sourced from Fukushima in order to dismiss concerns about the safety of food from the region.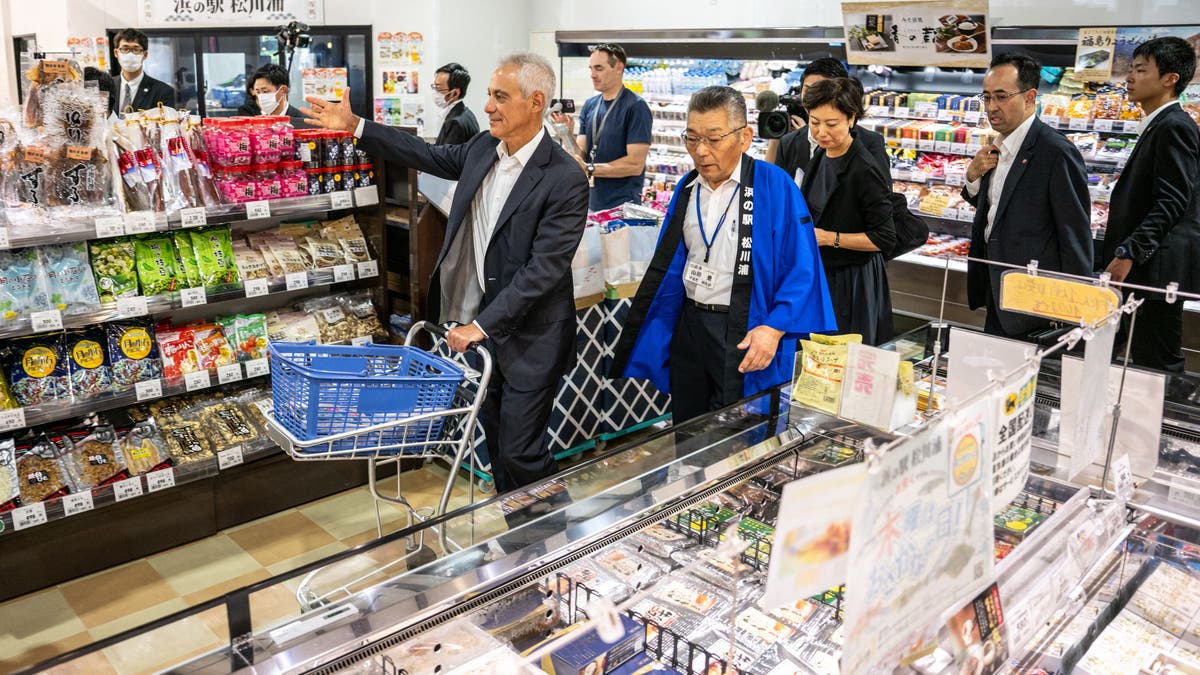 "It is important to show safety based on scientific evidence and resolutely disseminate (the information) in and outside of Japan," Economy and Industry Minister Yasutoshi Nishimura told reporters.
Beijing immediately banned all Japanese seafood imports following Tokyo's announcement of the plan to discharge the nuclear plant's wastewater, which had been heavily diluted with seawater prior to release. South Koreans have condemned the plan, and Japanese fishermen worry that the discharge will make their products undesirable for decades, severely impacting business. 
US DENIS BLOCKING CHIP SALES TO MIDDLE EAST
Emanuel stressed U.S. support for Japan's plan and added that he expected the U.S. to support Tokyo if it were to initiate a formal complaint with the World Trade Organization over China's ban on seafood imports.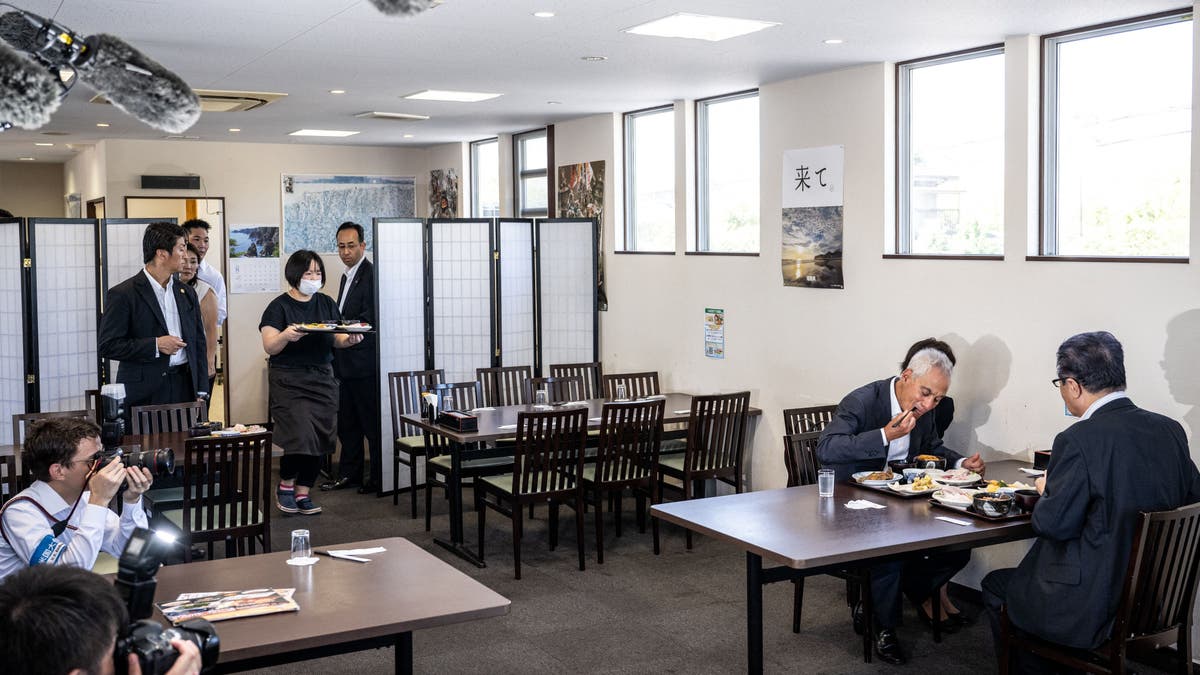 In addition to his lunch with the mayor of Soma, Emanuel bought fish at the supermarket, which he said he would serve to his children when they visit him over the weekend. He purchased fruits, flounder, sea bass and other produce – all sourced from Fukushima. 
"We are going to all eat it," he told The Associated Press in a phone interview during his trip back to Tokyo. "As a father, if I thought there is a problem, I won't serve it." 
CLICK HERE FOR THE FOX NEWS APP
The current pace of discharge will see the plant dump around 31,200 tons of treated water by the end of March 2024, freeing up just 10 of the 1,000 tanks at the plant since it continues to produce wastewater. Officials estimate that 30% of the tanks will empty by the end of the first decade, and the pace will speed up over that time as well.
Reuters and The Associated Press contributed ot this report.