Firefighters in British Columbia continue to battle hundreds of wildfires devastating the Canadian province, and officials shared video of a "fire tornado" that formed last week during extreme weather conditions.
Also known as a "fire whirl," officials say the event is an "incredibly rare phenomenon." It was spotted on August 17 as fire personnel responded to the Downton Lake wildfire at Gun Lake, BC Wildfire Service said Tuesday.
"The combination of high fire intensity, strong winds and air mass instability resulted in the formation of a fire whirl (otherwise known as a fire tornado) over Gun Lake," fire officials said. "These fire whirls are vertically oriented, intensely rotating columns of gas and flame."
The phenomenon was formed after several days of hot, dry weather in the province were followed by a cold front and strong winds, which provided "unique conditions," officials said.
CANADA EASES EVACUATION ORDERS AFTER WILDFIRES IN BRITISH COLUMBIA FORCES THOUSANDS TO VACATE
"With this combination of conditions and fire behavior, fire intensity was more extreme during this overnight period, reaching intensities that hadn't been seen even during the day," the wildfire service said.
The wildfires scorching in British Columbia have forced the evacuation of more than 25,000 people, with 37,000 more under alert to be ready to evacuate on short notice.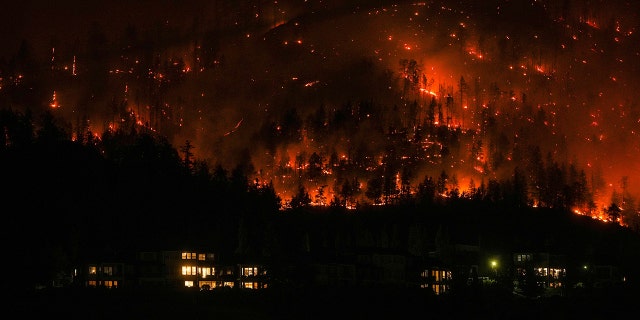 CANADIAN FIREFIGHTERS MAKING PROGRESS IN BATTLE AGAINST WILDFIRES, THOUSANDS STILL EVACUATED FROM THEIR HOMES
While drenching rainfall on Wednesday helped to douse wildfires, officials warned of potential localized flooding and "debris flows" as rains hit the scorched landscape.
Since April 1, according to the province's Wildfire Service, at least 1,818 wildfires have burned about 1.61 million hectares (nearly 4 million acres) of land in the province.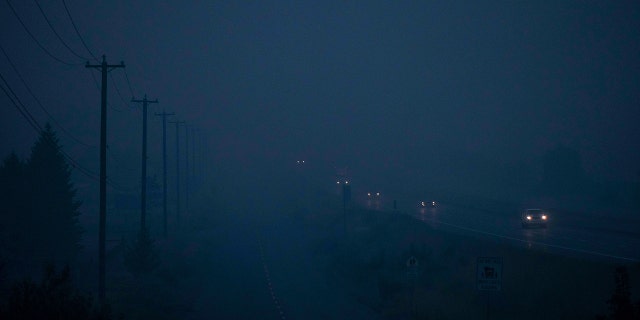 As of Thursday, there are currently 374 active fires burning across the province, according to the wildfire service's website.
The record number of wildfires in Canada have caused choking smoke to spread across parts of the U.S.
The Associated Press contributed to this report.