The US Federal Bureau of Investigation had warned three American Sikh nationals that their life was in danger after the brutal killing of a prominent leader Hardeep Singh Nijjar in Canada on June, according to The Guardian report, sparking a diplomatic showdown between Ottawa and New Dehli.
Pritpal Singh, coordinator for the US Sikh Caucus Committee confirmed that he and two other associates were called by the FBI just days after the assassination of Hardeep Singh Nijjar, which was allegedly carried out by India. 
Hardeep Singh Nijjar was the leader of the Khalistan Tiger Force (KTF) and was gunned down in June outside a gurdwara in Surrey, Canada which echoed in September 18 PM Justin Trudeau's speech in the House of Commons, underlining Indian involvement in the fatality.
The FBI told Singh that the agency believed his life was under threat because of intelligence reports. After a few days, the FBI offered Singh more specific safety instructions, according to the Intercept.
New Delhi and Ottawa asked the other's senior diplomat to leave the country as the Indian decision of expulsion reflected its "growing concern at the interference of Canadian diplomats in the internal matters and their involvement in [anti-state] activities", according to the foreign ministry.
India also stopped handling visa applications in Canada, blaming "security threats" which they said were "disrupting" the work of their officials and sought a reduction of Canadian diplomatic staff in India.
Trudeau said on September 18 that Indian agents played a role in the June murder of Nijjar, a Canadian citizen, near Vancouver.
The fallout prompted a forceful denial from India, which said any suggestion it played a role in Nijjar's killing was "absurd."
Trudeau insisted later on that his government "is not looking to provoke or cause problems" when asked why Canada's allies' reactions to the allegations appeared muted.
The accusations sparked concerns over the safety of Sikh leaders in foreign countries who are struggling for their independent state.
"Such intimidation of Americans is a form of transnational repression by the Indian government," Singh told The Guardian.
"Transnational repression not only threatens individuals but also undermines our democratic institutions, curtails individual rights and freedoms and challenges the national security and sovereignty of the US."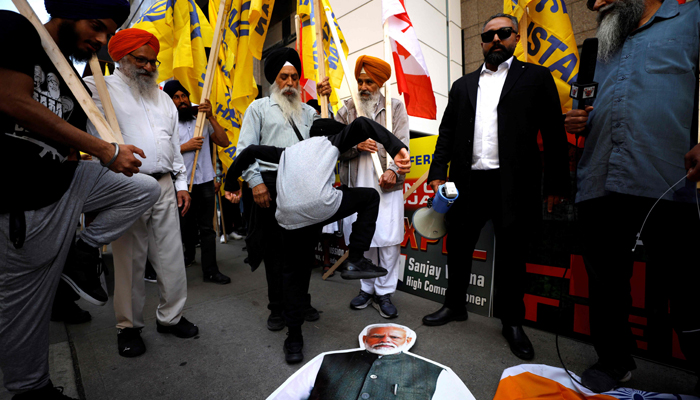 According to The Guardian, the US agency also gave a heads up to another citizen Amarjit Singh, a 70-year-old, New York-based journalist and a commentator who was said to be alerted first about threats against his life on 22 June.
Singh told The Guardian that he was approached by the FBI after returning from a protest against Modi in Washington, during his state visit to the US.
Amarjit Singh, while revealing publically about the threats said the initial call from the FBI was followed up a few weeks later by a longer in-person meeting, at which point he said it was obvious that authorities were warning against a possible threat on his life by India.
"It was a warning. They said no travel, just keep yourself safe," he said. Amarjit Singh said he only decided to go public with his account after Trudeau revealed Canada's conclusion about Nijjar's murder.
As new details surfaced this week, about the brutal assassination of Nijjar, the Washington Post reported citing a video that at least six men and two vehicles were involved in his killing, which was said to be a larger and more organised murder than previously reported. 34 bullets hit Nijjar.
Moninder Singh, a spokesperson for the British Columbia Gurdwaras Council, was one of five people — including Nijjar — who was warned by Canadian authorities in 2022 that their lives were at imminent risk.
"We were never told what the risk was or where it was coming from. But we assumed it was India, because of our activism and outspokenness," he said. "We expect them to attack us in the media, or character assassination, so this was shocking."
While he was told to leave his home to protect his young family, Moninder Singh said none of them were offered special protection. Weeks later, Singh was told that the threat against him had dissipated, but the threat against Nijjar — a close friend and mentor — remained.
"There was no other information shared," Singh said. "While there is an appreciation of Trudeau's statement, it's a bit late."