A person accused of ramming a car into the lobby of the Chinese consulate in San Francisco, California, Monday evening is dead, according to San Francisco police.
The suspect, whose identity has not been released, was inside a car that came to rest inside the lobby of the Consulate General of the People's Republic of China, the San Francisco Police Department said in a media briefing on Monday. When SFPD officers entered the building and made contact with the suspect, gunfire erupted and the suspect was shot.
Officers rendered aid to the suspect until paramedics with the San Francisco Fire Department arrived for transport to the hospital, where the suspect later died.
"In spite of the lifesaving efforts of the police officers, firefighter/paramedics, and personnel at the hospital, the suspect was later pronounced deceased at the hospital," SFPD said.
ALLEGED SEAFARING BANDITS NABBED ON SAN FRANCISCO BAY AFTER SERIES OF BOAT RAIDS
The investigation into the incident remains open and the department said it is "working and coordinating" with U.S. State Department investigators.
Earlier in the evening, the San Francisco Police Department posted on social media just before 7 p.m. advising citizens to avoid the area of Laguna Street and Geary Boulevard because of ongoing police activity.
FOX 2 in San Francisco reported a large presence outside the Chinese consulate. Witnesses at the scene told the outlet they saw a man, who was bloody, loaded into an ambulance and taken away. Witnesses also reportedly heard multiple gunshots.
2 CHILDREN DIE IN POOL AT CALIFORNIA RESIDENTIAL DAYCARE
Local news organization, The San Francisco Standard, spoke with Stanford student Sergii Molchanov, who was submitting documents to get a visa when the vehicle crashed into the building.
Molchanov told The Standard the driver's head was bleeding, and when he got out of the car, he shouted, "Where's the CCP?"
SELF-DRIVING VEHICLE RUNS OVER, PINS WOMAN IN SAN FRANCISCO; OPERATOR CLAIMS HUMAN HIT HER FIRST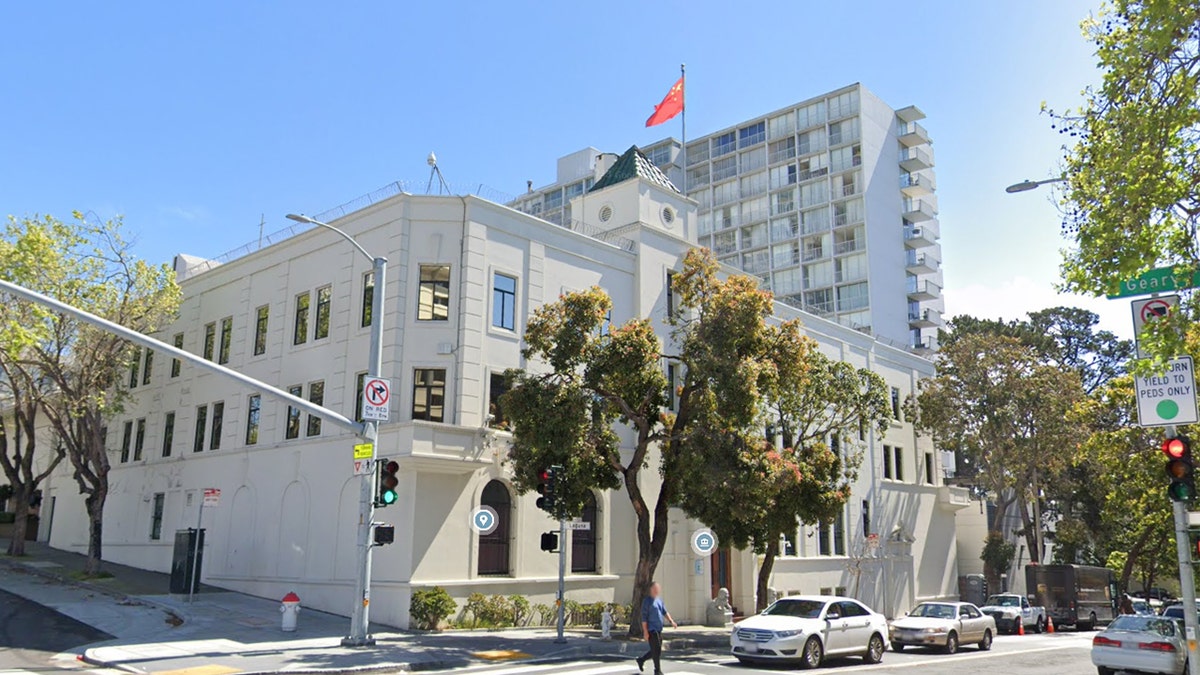 He was quickly approached by security guards who held his arms back, and while the student told the news organization he did not see a weapon on the driver, security guards were holding a knife.
"He looked at me, and I was a little bit scared because I didn't know if he had any gun or something," Molchanov told The Standard.
People were seen fleeing the building on video captured by Molchanov. Also seen on video is the suspect, who appeared disheveled and bloody.
Molchanov also told The Standard he heard two gunshots.
Police were reportedly worried the suspect had an explosive device in the vehicle, and several police vehicles and emergency vehicles responded to the scene, along with bomb-sniffing dogs.