Just after Fulton County Superior Court Judge Scott McAfee approved a $200,000 bond, the four-time indicted former President Donald Trump decided to surrender in Georgia where a case of subverting election results of the state in 2020 is registered, as he reiterated that he is being wronged.
Donald Trump wrote on Truth Social Monday that day he would be "ARRESTED by a Radical Left District Attorney, Fani Willis," an official in Georgia who brought to the fore the fourth indictment against the 77-year-old.
The first-ever former US president facing criminal charges and the 18 other co-defendants have time until Friday to turn themselves in in the landmark case to be booked.
In his post, former president Trump said Willis is acting "in strict coordination with Crooked Joe Biden's [Department of Justice] DOJ. It is about ELECTION INTERFERENCE."
He has been reiterating this since he was indicted for the first time in April in a case pertaining to paying hush money to an adult film star, calling the charges a witch hunt against him, aimed to force him out of the race.
Aside from a $200,000 bond for the Republican billionaire, Judge McAfee imposed several conditions in an agreement approved by prosecutors and Trump attorneys.
"The Defendant shall perform no act to intimidate any person known to him or her to be a codefendant or witness in this case or to otherwise obstruct the administration of justice," McAfee said in a three-page court filing.
"The above shall include, but are not limited to, posts on social media or reposts of posts made by another individual on social media," the judge said.
McAfee set bond at $100,000 each for two co-defendants in the case — former Trump campaign attorneys John Eastman and Kenneth Chesebro.
Fulton County district attorney Fani Willis has asked the judge to set a trial date of March 4 next year for the Republican presidential hopeful on charges of trying to overturn the 2020 presidential election result in Georgia.
The 77-year-old is facing four criminal trials as he bids for a return to the White House.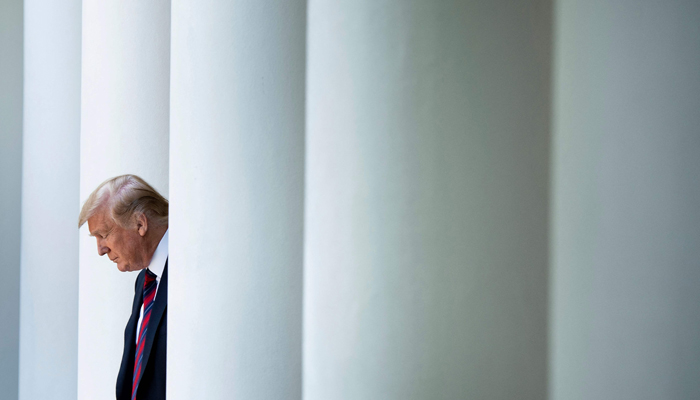 Trump was indicted in Georgia on charges of racketeering and a string of election crimes after a sprawling, two-year probe into his efforts to overturn his election defeat to incumbent Democrat President Joe Biden in the Peach State.
Others facing charges in the alleged conspiracy include the four-time indicted former president's former personal lawyer Rudy Giuliani and his White House chief of staff, Mark Meadows.
Trial date for Donald Trump
Special counsel Jack Smith has asked a federal judge to set a January 2, 2024 date for the former president to go on trial in Washington on separate charges of conspiring to upend the results of the 2020 election.
Trump's attorneys asked Judge Tanya Chutkan last week to schedule the trial for April 2026 — long after next year's presidential vote.
They argued that the amount of documents in the case would require months to process.
Smith pushed back in a court filing on Monday saying Trump's defense team "exaggerates the challenge of reviewing" the evidence presented in the case.
"A proposed trial date in 2026 would deny the public its right to a speedy trial," the special counsel said.
Chutkan is to decide the date for the trial at a hearing on August 28.
Trump also faces a trial in New York in March 2024 for allegedly making hush money payments to a porn star in a bid to cheat campaign finance rules ahead of the 2016 election.
He is scheduled to go on trial in Florida in May on charges also brought by Smith of mishandling top-secret government documents he took from the White House as he left office.