A diving platform at Germany's biggest amusement park collapsed on Monday during a pirate-themed acrobat show, injuring seven people.
During a performance of the acrobat show "Retorno dos Piratas" at Germany's Europa Park, a mobile pool ruptured, forcing the attached diving towers to collapse, according to German news outlet The Local de.
Water from the mobile pool went into the Atlantica SuperSplash water ride, and parts of the show's set could be seen floating. 
In total, five performers and two visitors were injured, police said, adding that three of the performers were taken to a nearby hospital for evaluation.
'TALLEST,' 'FASTEST' GIGA ROLLER COASTER IN NORTH AMERICA REOPENS AFTER EAGLE-EYED GUEST HELPS AVERT DISASTER
The amusement park is located in the German town of Rust, which is near the French and Swiss borders.
Video of the incident shows people on the Atlantica SuperSplash at a standstill because of the incident.
"We have been stuck for fifteen minutes," one of the people on the ride can be heard saying in French.
FLORIDA 911 CALL REVEALS 'SCREAMING' AFTER BOY, 6, FALLS OFF ROLLER COASTER: 'HE'S BLEEDING'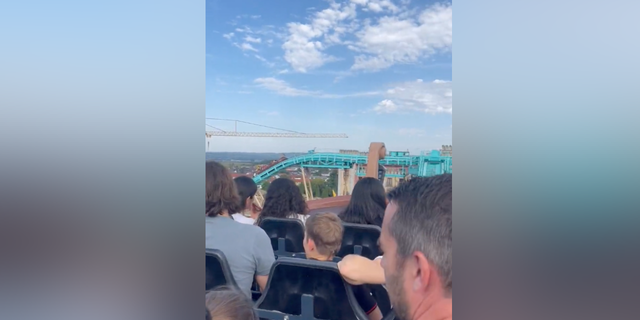 A spokesperson for the amusement park confirmed that the water ride was reopened on Wednesday, according to the report.
In June, the park was evacuated after a large fire broke out. Two firefighters suffered minor injuries while responding to the fire, but no visitors were hurt.
CLICK HERE TO GET THE FOX NEWS APP
Over 6 million people visited Europa Park in 2022, and it's the largest theme park in Germany.
The Associated Press contributed to this report.