An explosive new report Meta released Tuesday exposes covert misinformation operations from China and Russia targeting the United States. Organizations which were targeted include The Washington Post, NATO and Fox News.
Meta, Facebook's parent company, reported that the campaigns were designed to turn China's human rights record in a positive light and twist the perception of Russia's war in Ukraine as a Ukrainian attack on democracy. 
For the first time ever, Meta was able to attribute the massive disinformation campaign to individuals associated with Chinese law enforcement. Targeting the Chinese operation, Meta removed 7,704 Facebook accounts, 954 pages, 15 groups and 15 Instagram accounts for violating their policy against coordinated inauthentic behavior, efforts of which used fake versions of legitimate websites to spread false content. The large network, which originated in China, targeted Taiwan, the United States, Australia, the United Kingdom, Japan and Chinese-speaking audiences around the world, according to the report.
Meta's Global Threat Intelligence Lead Ben Nimmo has been the lead investigator into online disinformation.
NOTORIOUS RUSSIAN INTELLIGENCE CHIEF TAPPED TO REPLACE PRIGOZHIN IN WAGNER'S AFRICA OPERATIONS
"The Chinese operation is the largest online influence operations that we know of in the world today. It operates across more than 50 different platforms and services Facebook, YouTube, Twitter, Tik Tok, Reddit, Quora, Pinterest," Nimmo said. 
These individuals associated with China have used very large numbers of fake accounts across those platforms. 
"What it's doing is posting articles and cartoons and videos that basically praise China, criticize the United States and Western countries, and then criticize anybody who criticizes the Chinese government," Nimmo explained.
"Parts of the restoration have been reported through the years under the name of 'spamouflage' because they use spam to camouflage their political posts," Nimmo said.
Nimmo and other investigators determined this was a single operation. 
ONLINE PRIVACY GURU SAYS THREADS' 'RAMPANT ABUSE OF DATA' IS WHY META DIDN'T LAUNCH PRODUCT IN EU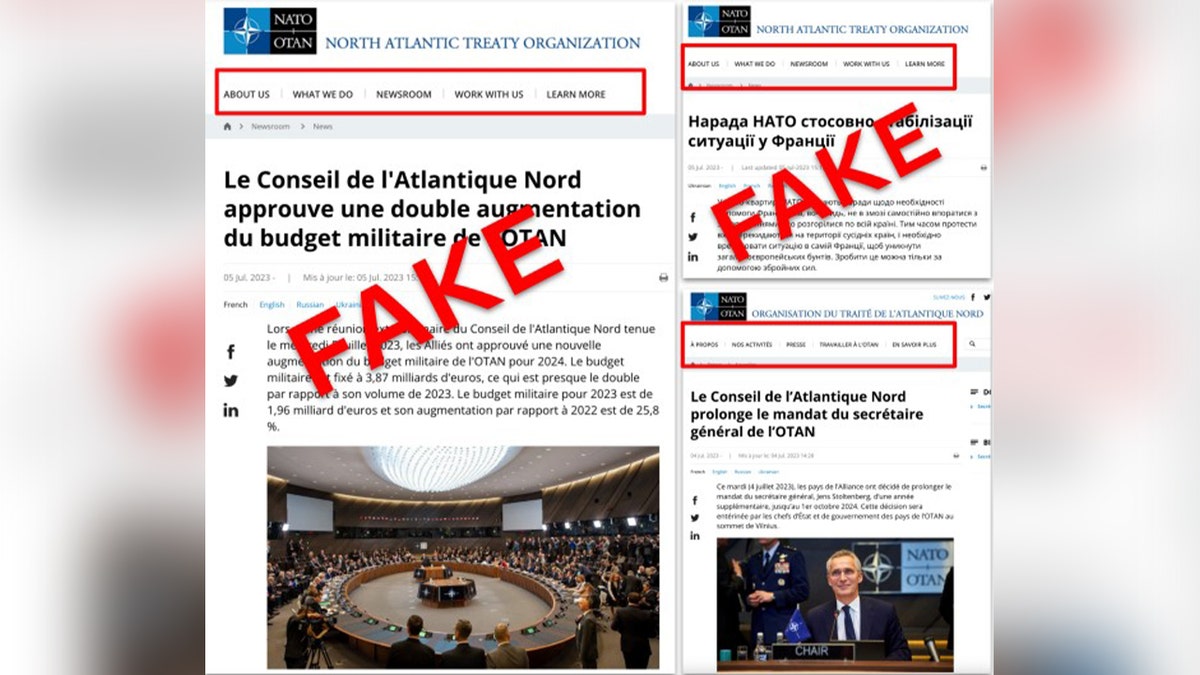 "It's run by people who are spread out across China, but who are sharing internet infrastructure," Nimmo said, adding that it included people associated with Chinese law enforcement. Meta has taken down thousands of Facebook accounts, but Nimmo said there have been "many many more accounts across different social media services." 
The Chinese influence campaign was uncovered in part because the Chinese hackers made so many mistakes. 
"For example, it would run an article in Chinese, but it would slip up and give it an English headline, and then it would run the Chinese headline with an English article underneath it, so the operation has been struggling to build an audience, but it's very big. It's very persistent. It has been criticizing the United States a lot," Nimmo said. 
This Meta report also exposed the largest Russian disinformation campaign since 2017, known as Doppelganger. It was first discovered in September 2022. Meta attributed the fake news articles and websites to two Russian firms and shared the threat research so that the organizations being imitated could take action to protect themselves against it. The European Union recently sanctioned the two Russian firms.
Meta continued to counter the misinformation campaigns coming out of Russia. "We know that these deceptive campaigns are persistent and often try to come back — if not on our platforms, then somewhere else," the report said.
Meta's latest findings showed that the campaign has continued its mission to weaken support for Ukraine against Russia's invasion. It has expanded beyond its initial targets of France, Germany and Ukraine itself to now include the U.S. and Israel, including The Washington Post and NATO. 
This Russian operation is true to its name, Doppelganger, constructing websites to mimic major news companies and insert phony news articles as propaganda. 
BEWARE OF THIS MAC MALWARE MASQUERADING AS AN OFFICE PRODUCTIVITY APP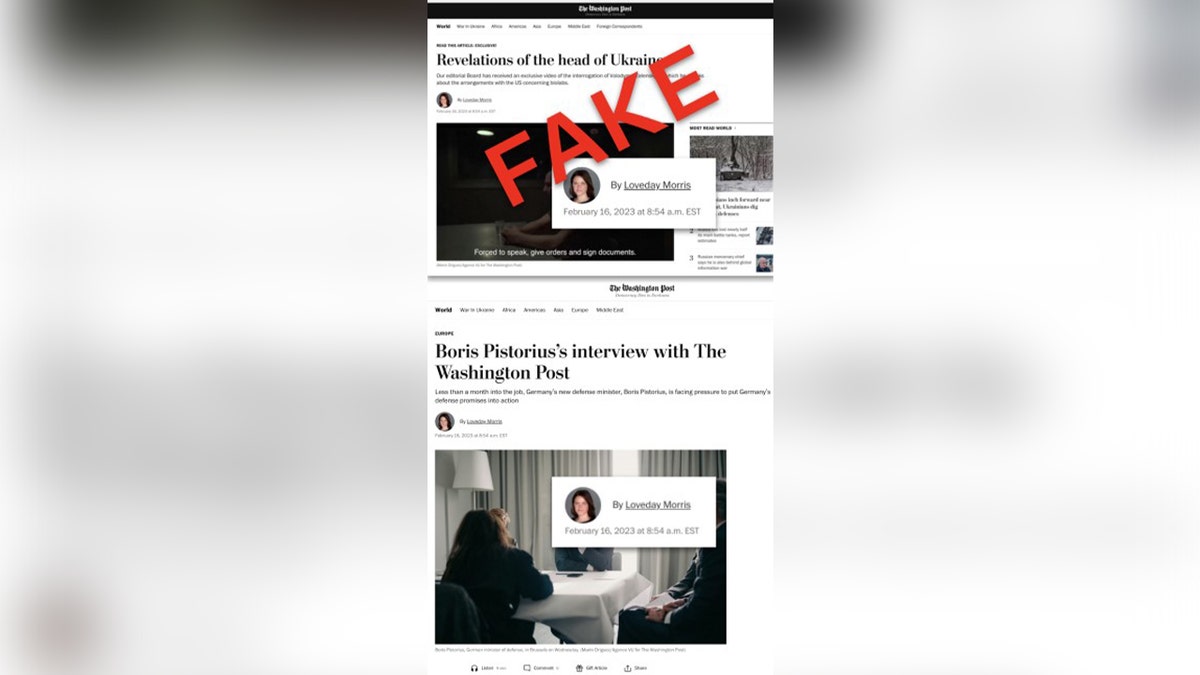 A website mimicking The Washington Post posted a fake interview with Ukraine's President Volodymyr Zelenskyy in which he admitted to being a CIA puppet. An article was written by the real author on the same day on The Washington Post website, but it said nothing like that Zelenskyy CIA headline.
On July 4, Fox News was targeted. A website that appeared similar to Fox News Digital spoofed an article, claiming Zelenskyy was "stepping on democracy."
In August 2017, Nimmo was declared dead by 13,000 Russian bots on Twitter because of the work he was doing to show how American extremist groups had adopted pro-Kremlin messages on social media opposing Ukraine. The Russian bots tagged Nimmo and his colleagues in a tweet, then used tens of thousands of fake Twitter accounts to amplify the message. 
Nimmo was undeterred. 
CLICK HERE TO GET THE FOX NEWS APP
"It was a crude way, I think, of trying to intimidate us and to scare us off, but the nice thing about reading about your own death on the internet is that you can check your pulse and you know, that's not true. So, it was a short-term attempt at harassment, but it didn't go very far."
Nimmo has helped Meta take down 200 different covert influence operations in recent years, but Tuesday's announcement is the largest cross-platform operation it has disrupted to date.