China's Foreign Ministry blasted Taiwan Vice President William Lai for his brief visit to the U.S. on Saturday, labeling him a "separatist."
Lai landed in New York City on Saturday, ostensibly as part of his transit to Paraguay to attend the inauguration of that country's president. China has bristled at any meetings between Taiwanese and U.S. officials over the past year, often responding with extensive military drills around the self-governed island.
"Lai stubbornly adheres to the separatist position of Taiwan independence and is a troublemaker through and through," the ministry said. "China is closely following developments and will take resolute and vigorous measures to defend national sovereignty and territorial integrity."
The ministry later alleged that Lai and other Taiwanese officials "rely on the United States to seek independence"
CHINA SENDS SWARMS OF WARPLANES, NAVY SHIPS TO TAIWAN AHEAD OF ANNUAL INVASION TRAINING
Neither Taiwan nor the U.S. offered exact details of Lai's schedule for his brief time in New York City. The politician, who is the front-runner to become Taiwan's next president, posted on social media upon his arrival and said only that he was "looking forward to seeing friends & attending transit programs."
CHINA, RUSSIA SEND NAVAL WARSHIPS NEAR ALASKA, TRIGGERING FORCEFUL US RESPONSE
China's statement prompted a response for Taiwan's China-policymaking Mainland Affairs Council
"Our government firmly defends national sovereignty and security, guards the lines of defense of democracy and freedom, and will never back down, let alone capitulate," the council wrote.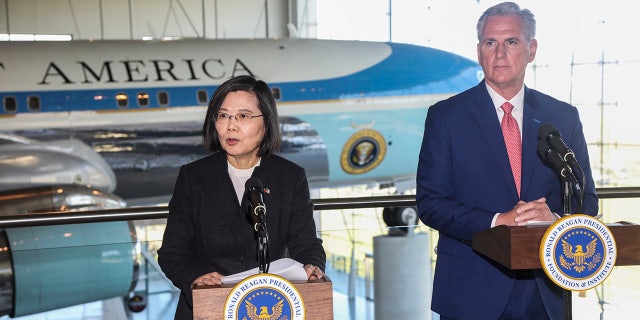 Lai has denied claims that he is campaigning for Taiwanese independence. On the campaign trail, he has vowed to maintain the country's current status, though he has said Taiwan's people should be able to decide their future.
Tensions between China and Taiwan have only grown over the past 12 months following then-House Speaker Nancy Pelosi's visit to the island in August 2022. The Chinese armed forces have surrounded the island with military drills for days at a time on two separate occasions.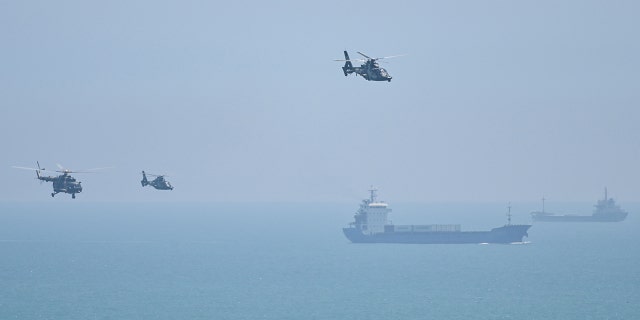 CLICK HERE TO GET THE FOX NEWS APP
China also released a military documentary last week detailing their readiness to invade the island.
Reuters contributed to this report.