A group of Israel supporters launched a campaign featuring digital photos of child hostages kidnapped by Hamas to combat pro-Palestinian sentiment on woke college campuses in the U.S. and London.
Six friends teamed up with Louder-Israel, a marketing company, to create digital billboards of child hostages emblazoned on 13 trucks, which drive through large cities often in the midst of massive rallies. 
"Our perspective is Israel doesn't need our money or care packages," said a New York City financier, who is the lead sponsor of the campaign. "What Israel really needs, in our opinion, is support in the United States. If we stand alongside Israel, fight the PR war and support Israel things will work out just fine."
The sponsor, who asked that Fox News Digital withhold his name, said he fears that if Israel loses the backing of the U.S., Iran will be emboldened and the situation in the Middle East will spiral out of control. 
"When this first happened, most Americans viewed this as Israel's version of 9/11 and felt solidarity," he said. "As time has passed, people have forgotten about the 1,400 dead and maimed and raped in Israel and the 240 hostages taken to Gaza."
On Oct. 7, Hamas terrorists invaded Israel and massacred 1,400 people, mostly civilians, and kidnapped at least 33 children. 
After the attack, Israel responded with retaliatory strikes on Gaza that have killed more than 9,000 people, according to the Hamas-controlled health ministry. 
The accuracy of the death toll in Gaza has been disputed but photos of bloodied and dead children pulled from the rubble of flattened buildings have turned many people against Israel. 
JEWISH STUDENTS AT GEORGETOWN FEAR VIOLENCE AMID HEATED RHETORIC FROM CLASSMATES AND ANTI-ISRAELI GROUPS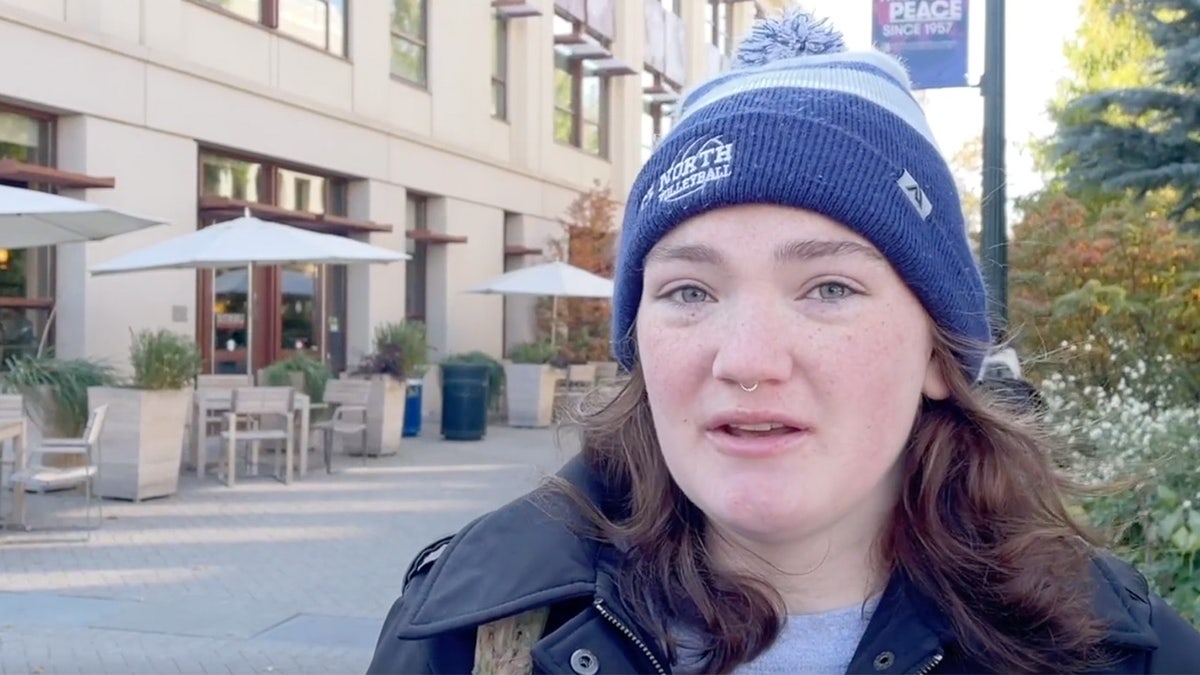 Video of Americans tearing down hostage posters plastered in cities across the world have gone viral. 
"Whether you're pro-Israel, against Israel or even an antisemite, if you see a kidnapped baby, decency kicks in," reasoned the sponsor. 
The fleet of trucks, which has been circling campuses for two weeks, has cost the group more than $120,000. But, based on interviews with pro-Palestinian demonstrators, the campaign may be doing little to sway opinion.
Lily, who joined a rally at American University in Washington, D.C., questioned the sincerity of the message.
"At this point in the conflict where it's kind of war crime against war crime, displaying one as more important than the other when one group of people has had far less people killed…it might be covering up some motivations that might not be fantastic on the side of people supporting Israel right now," she told Fox News Digital.
AFTER COLLEGE GAVE ANTI-ISRAEL ACTIVISTS A PASS, FORMER PENN TRUSTEE ISSUES WARNING TO UNIVERSITY ADMINS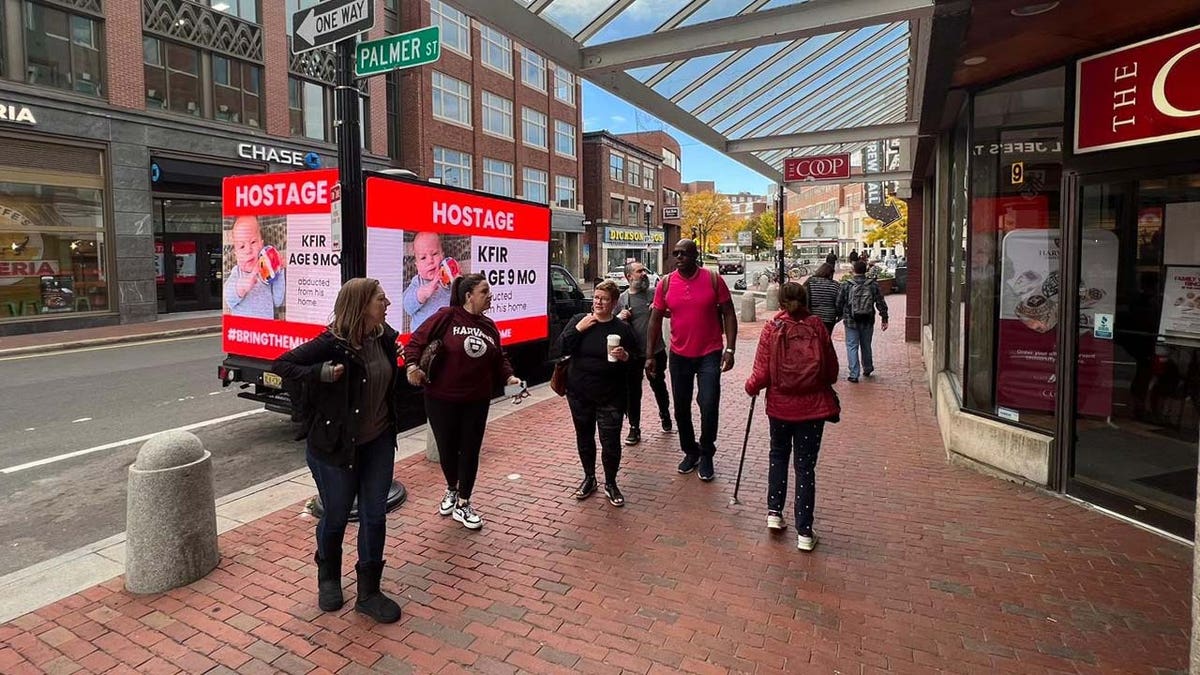 Chris, who was also at the rally, echoed her position, and said that the digital billboards promoted the sentiment that "Israeli lives matter more than Palestinians."
Another student, Malak, called the trucks a way of "erasing our voices" and telling the world, "don't hear them, hear us."
In addition to D.C., the group has dispatched the trucks to Boston, Philadelphia, Miami, Chicago, Berkeley, Los Angeles, New York City and London. 
They've roamed the outskirts of Harvard, University of California, Berkeley, Columbia University, New York University and University of Pennsylvania. 
'DESPICABLE': STUDENTS CONDEMN HARVARD STUDENT GROUPS' LETTER BLAMING ISRAELIS FOR OWN MASSACRE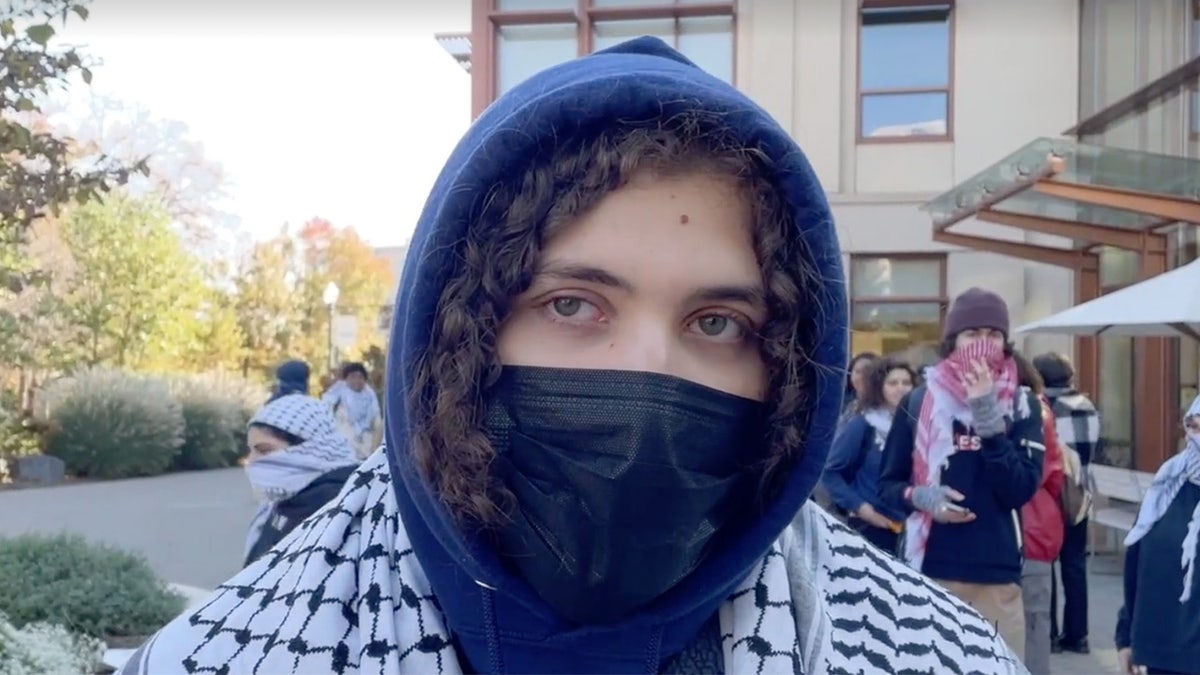 The sponsor said that the trucks and their drivers have been repeatedly threatened, and they have recorded people giving the middle finger to photos of the kidnapped children. 
CLICK HERE TO GET THE FOX NEWS APP
Police have asked the trucks to leave rallies for fear of violence, and the drivers comply, he added. 
Juda Engelmayer, president of Herald PR, lauded the campaign. "It's a great idea to help get Israel's message out and show there's support for the country, but I don't think it's changing opinions," he said. "Anyone who says killing babies is great because Israel really sucks doesn't care what you have to say." 
Julia Bonavita contributed to this report.