During his visit to Vietnam on Sunday, President Biden denied that strengthening ties with Hanoi was part of a broader effort to contain China. 
At a press conference, a reporter noted that China had questioned the sincerity of the Biden administration for wanting diplomatic talks with Beijing. 
"Really what this trip is about, is less about containing China. I don't want to contain China. I just want to make sure we have a relationship with China that is on the up and up, squared away, and everybody knows what's going on," Biden said. 
Biden's comments in Vietnam's capital came after the president attended the Group of 20 summit in India, which neighbors China and has clashed with Beijing over border territories. The American president came to Hanoi as Vietnam was elevating the United States to its highest diplomatic status, comprehensive strategic partner, underscoring how far the U.S.-Vietnam relationship has evolved since the Vietnam War. 
BIDEN ARRIVES IN INDIA FOR G-20 SUMMIT AS FOES PUTIN AND CHINA'S XI  KEEP AWAY
The expanded partnership reflects a broader effort across Asia to counter China's influence. Biden has said Vietnam wants to flex a degree of independence, and U.S. companies are seeking an alternative to imports from Chinese factories. He is pursuing possible allies while also trying to soothe tensions with China.
Biden insisted that shoring up ties with China's neighbors was about having a "stable base" in the Indo-Pacific and not about isolating Beijing.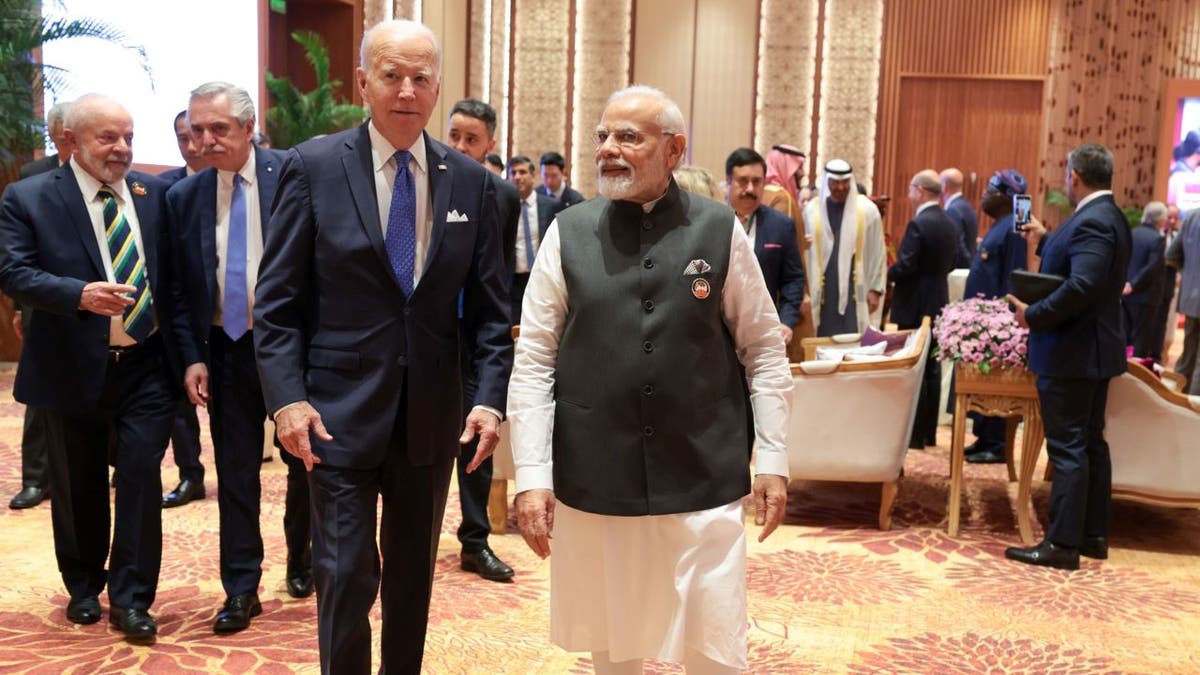 "It's not about isolating China. It's about making sure the rules of the road – everything from airspace and space in the ocean and the international rules of the road – are abided by," Biden said.   
CHINA'S MILITARY TARGETS AMERICAN TROOPS, VETERANS FOR EXPLOITATION CAMPAIGN, GENERAL SAYS
He acknowledged that China is presently having some economic difficulties, but he ultimately wanted "to see China succeed economically" so long as they play by the rules. 
Fox News Digital has reached out to the White House for further comment. 
Biden said he had met with Chinese Premier Li Qiang while in India, marking the highest-level interaction between U.S. and Chinese officials since Biden and China's president, Xi Jinping, held talks at last year's G20 in Indonesia. Xi skipped the India talks and sent Li in his place.
"We talked about stability. … It wasn't confrontational at all," Biden said.
Biden went into meetings with Vietnam's leaders after his arrival in the country. He welcomed the new partnership and said he hoped for progress on climate, the economy, and other issues during his 24-hour stop in Hanoi.
CLICK HERE TO GET THE FOX NEWS APP
Biden called Vietnam "a friend, a reliable partner, and a responsible member of the international community." 
The Associated Press contributed to this report.