The Austin, Texas chief of police abruptly retired from his post on Monday in the wake of major staffing shortages, the absence of a police union contract and years of issues with the city council and mayors.
Austin Police Department Chief Joseph Chacon announced his retirement "with a heavy heart" on Monday in a post on X, formerly Twitter, saying he came to the decision after a lot of thought.
"This is one of the hardest messages that I've ever had to write," he said. "A few months ago, I began seriously considering retirement and after long conversations with my wife and family, and thoughtful prayer, I have now made the decision that the moment is right to hang it up on a 25-year career with APD."
Chacon added that he never thought it possible to become chief of police, though it has been the "pinnacle" of his career and an "absolute honor."
AUSTIN PD HUNDREDS OF OFFICERS SHORT AS CRIME CRIPPLES CITY; UNION WARNS: 'DON'T HAVE THE RESOURCES'
He encouraged everyone to hold their heads up, continue the good fight and honor the profession by keeping the people of Austin safe, and thanked them for "making this one of the safest big cities in the country."
Mayor Kirk Watson responded with a brief statement thanking Chacon for his service. 
In the coming days, Chief of Staff Robin Henderson will be named Interim Chief of Police, Chacon said. As Henderson transitions into the role, Chacon will move into an advisory role for a brief period to ensure a smooth transition, before finalizing retirement and leaving the department.
The announcement comes as residents continue to feel the aftermath of staffing shortages, which include longer than normal hold times for those who call 911, and crime that continues to spiral out of control.
AUSTIN MAYOR BLOCKS STATE POLICE HELP FOR UNDERSTAFFED PD IN MOVE THAT CAVES TO 'DEFUND' ACTIVISTS: CRITICS
In 2020, the Austin City Council slashed APD's budget by about $150 million, or roughly a third of its budget at the time. A state law passed the following year forced the city to restore the lost funding to APD, but by then, officers were departing the force in large numbers. At the same time, the city paused police cadet classes, further squeezing the department's staffing. 
Thomas Villarreal, president of the Austin Police Association, spoke to "Fox & Friends" on Monday, blaming the Austin City Council for neglecting local law enforcement and alleging that the council's missteps created a larger problem.
"We just continue to have a city council that doesn't show its police officers that [it] cares about them," Villarreal said.
AUSTIN SEES SPIKES IN VIOLENT CRIME, OFFICER RETIREMENTS AFTER DEFUND POLICE VOTE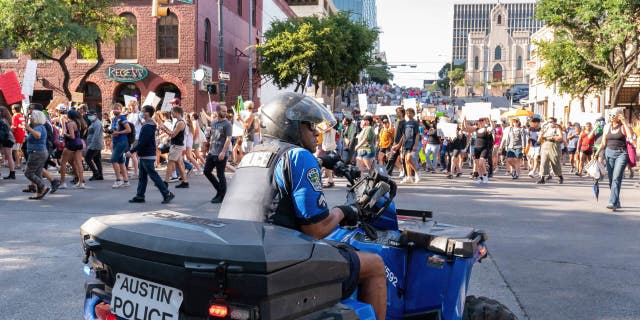 He explained that in December 2017, the council voted down a police contract for the first time in the history of negotiating contracts. When the union tried to get the contract back in place the following year, city officials decided to "reimagine" police oversight, and a contract was in place again.
During the summer of 2020, riots following the death of George Floyd took place in Austin, during which APD officers fired bean bags, rubber bullets and tear gas during a protest that spiraled out of control.
As a result, 19 officers were indicted on charges of aggravated assault, and at least one of those officers faces a charge of deadly conduct discharge of a firearm.
AUSTIN POLICE OFFICER INDICTED ON SECOND CHARGE RELATING TO MAY 2020 PROTESTS IN TEXAS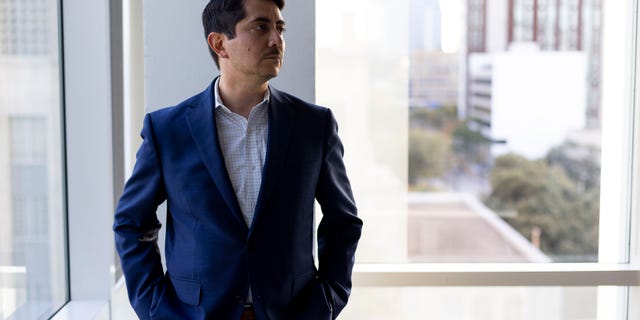 Villarreal said the officers were indicted for "doing their jobs."
The indictments were brought on by Travis County District Attorney Joe Garza, a George Soros-backed candidate accused of running on a platform in favor of prosecuting police.
Villarreal said the department currently has about 1,475 officers, in a city that should have closer to 2,000 officers and growing.
Since defunding, Austin has seen crime increase, and this year, residents are waiting longer for police to come to their aid amid a shortage of staff at the 911 call center. 
Save Austin Now, a PAC dedicated to the quality of life in Austin, thanked Chacon for his service and commitment to improving public safety, while also congratulating Henderson for being appointed interim police chief.
POLICE SHORTAGES LEAVE AUSTIN JEWELRY STORE IN DIRE STRAITS AMID CRIME WAVE: 'THIS IS NOT WORKING'
In its statement, the PAC said the city is embarking on a national search for a new chief at a time when residents cannot afford a failed effort.
"This search will occur at a low point for public safety in our city. Amid rising crime, inadequate 911 response times and the most profound police staffing crisis in our city's history, we must select a new police chief that can dramatically improve recruiting and retention and secure a new labor contract with the city," the statement read. "The current Mayor and city council tragically let a collectively bargained four-year labor contract die in February and now there is no pathway forward, with a modest pay increase and benefit protections set to expire in March."
It continued by saying, "Until City Hall rejects the poison of police abolitionists and their allied activists and ensures we have a strong, adequately staffed police department, public safety will continue to deteriorate."
Cleo Petricek, co-founder of Save Austin Now said in an X (formerly Twitter) post that the state should take over the police department, as the council is "ruled by police abolitionists."
She also said the department will continue to see more resignations at every level and continued recruitment issues because of the lack of a contract, and as the council continues to extort officers.
Adding to the responses to Chacone's retirement, Jennifer Hackney-Szimanski of Combined Law Enforcement Associations of Texas (CLEAT) posted to X that "enough is enough."
"Austin will never be able to retain an experienced, well-rounded chief for any amount of time with a Council who refuses to ratify a contract and a DA who removes less lethal options and continues to harass LEOs," she said.
Taylor Penley of Fox News contributed to this report.