Spiro, a startup looking to eliminate fuel-guzzling motorbikes and scooters from the roads by trading them in for electric two-wheelers, is expanding to Kenya.
Kenya's government announced that e-bike startup, Spiro, will deploy 1.2 million electric vehicles in the country, marking its biggest deployment to date and, according to CEO Jules Samain,  a significant milestone for the company, having grown from 10,000 bikes in Benin, Togo, and Rwanda to 140,000 bikes in Uganda.
The company will also begin its five-year rollout of 140,000 bikes in Uganda this autumn.
Spiro's goal is not only "to reduce pollution sources, but to eliminate them," Samain said, according to CNN.
Once an old bike has been traded in, the parts will be recycled and repurposed, he explained, adding that the company has held "crushing events" in both Benin and Togo, where motorised vehicles are publicly flattened before the material is reused.
Kenyan taxi drivers can switch to electric bikes for 50,000 Kenyan shillings ($344), a third of the price of a new bike. They can then pay a daily subscription of around $2 to repay the outstanding balance and access battery-swap stations.
The scheme reduces petrol and diesel vehicle usage, air pollution, and cuts fuel and maintenance costs. Some drivers have reported increased profits from $6 to $11 a day since joining the scheme.
A 2022 report from the FIA Foundation reveals that electric motorcycles are currently more expensive than petrol-powered ones, but their operating costs are cheaper.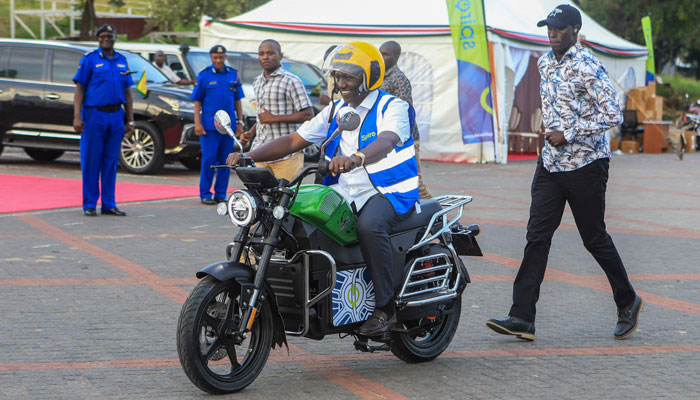 In many African countries, one litre of petrol can power a bike for about the same distance as one kilowatt-hour of electricity but costs five to 10 times more. The report emphasises the importance of battery-swapping initiatives to make electric two-wheelers more affordable.
However, according to Samain, for battery-swapping to work, there needs to be "reliable and accessible charging infrastructure."
Samain said: "Before distributing the first bike, we build a network of swapping stations, and they aren't placed randomly: we carefully study the terrain and position our swapping stations in both urban and rural areas, ensuring extensive coverage."
Spiro plans to construct 3,000 electric vehicle stations across Kenya, alleviating range anxiety for drivers and enhancing the nation's electric vehicle infrastructure, CNN reported.
The company, currently manufacturing bikes and scooters in China, will also establish a manufacturing base in Kenya to create local jobs.
Kenya's president William Ruto, speaking in the coastal city of Mombasa at the launch of the initiative, said: "It creates jobs and transfers knowledge, technology and skills to our market in a very sustainable way."